The Top 20 Black Gate Fiction Posts in June
The Top 20 Black Gate Fiction Posts in June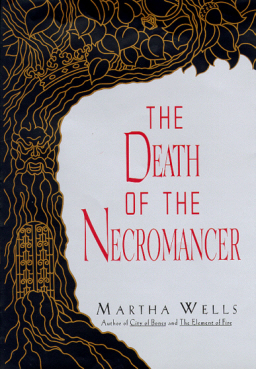 We were pleased and honored to present Martha Wells' Nebula-nominated novel The Death of the Necromancer as part of our Black Gate Online Fiction lineup last month. The complete text of the novel — all 22 chapters — was offered here for free, for the first time anywhere.
Not surprisingly, The Death of the Necromancer was far and away our most popular fiction offering last month. But it was by no means the only widely-read tale we had for you. Our exclusive excerpt from Howard Andrew Jones' second Dabir and Asim novel, The Bones of the Old Ones, was our second most popular post, and Aaron Bradford Starr's 35,000-word epic fantasy mystery featuring Gallery Hunters Gloren Avericci and Yr Neh, "The Sealord's Successor," was a close third, followed by Joe Bonadonna's adventure fantasy "The Moonstones of Sor Lunarum," and Judith Berman's sword & sorcery novella "The Poison Well."
Also making the list were exciting stories by Ryan Harvey, E.E. Knight, Michael Penkas, Jason E. Thummel, Mary Catelli, Robert Rhodes, Emily Mah, Vaughn Heppner, and many others.
If you haven't sampled the adventure fantasy stories offered through our new Black Gate Online Fiction line, you're missing out. Every week, we present an original short story or novella from the best writers in the industry, all completely free. Here are the Top Twenty most-read stories in June:
The complete catalog of Black Gate Online Fiction, including stories by Jamie McEwan, C.S.E. Cooney, John R. Fultz, Mark Rigney, Harry Connolly, Sean McLachlan, David Evan Harris, Gregory Bierly, Donald S. Crankshaw, and many others, is here.. The Top fiction from May is here.
We've got plenty more in the coming months, including new fiction from Mark Rigney, Vaughn Heppner, Ryan Harvey, and many others — so stay tuned!