When the 21st Century was Far Future: Frank R. Paul: The Dean of Science Fiction Illustration
When the 21st Century was Far Future: Frank R. Paul: The Dean of Science Fiction Illustration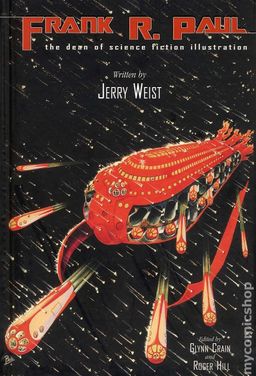 I consider Frank R. Paul to be one of the most important — if not the most important — artist in the history of science fiction.
It's odd then that so few readers today are familiar with his work. Jerry Weist set out to correct that with Frank R. Paul: The Dean of Science Fiction Illustration, a dream project of his that was released only after Weist's death in 2011.
Paul virtually created American Science Fiction, alongside Hugo Gernsback, in the late 1920s. He was the cover artist Gernsback chose for the first science fiction magazine, Amazing Stories — every single issue, for over three years, until Gernsback lost control of it in 1929.
That meant Paul crafted many of the defining images of early science fiction, including his interpretation of Buck Rogers (on the cover of Amazing August 1928), H.G. Wells's The War of the Worlds (August 1927), and Edgar Rice Burroughs's John Carter of Mars (Amazing Stories Annual 1927). He made exciting new concepts like space travel, picture-phones, aliens, and robots vivid and real to an America where most people didn't even own a telephone.
When Gernsback left Amazing behind and founded a new stable of magazines — including Science Wonder Stories and Air Wonder Stories — he took Paul with him. Altogether, Paul painted over 300 magazine covers before his death in 1963, most of them for Gernsback.
Paul had numerous artistic firsts. He was the first to paint a space station, for the cover of the August 1929 Science Wonder. He painted the cover for Marvel Comics #1 in October, 1939, giving the world its first look at the Human Torch.
Paul did countless interior illustrations as well. In addition to his striking cover art, he executed a famous series of original paintings imagining life elsewhere in the solar system for the back covers of many of Gernsback's magazines.
[Click on any of the images in this article for larger versions. Seriously — check out the big versions, especially that toppling skyscraper.]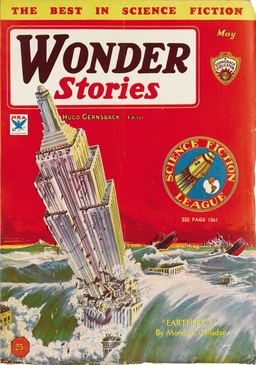 Paul's artwork is distinctive in other ways. His background was in architecture, and it showed. He was at his most brilliant when depicting global catastrophes and alien menaces, such as the collapsing Empire State building on the cover of the May 1934 Wonder Stories and the man-eating plant on the cover of the September 1927 Amazing Stories. His super-science — whether gigantic earth-movers on alien landscapes, or massive spaceships shaped like buzzsaws — drew the eye and fired the imagination. It's said he never drew the same spaceship twice, and he drew hundreds of them over the years.
You could tell a Paul cover at a glance. For one thing, he painted exclusively in primary colors. Perhaps that was an artifact of his pulp upbringing; there were a lot of limitations in color printing on pulp paper, especially in the 1920s.
Paul was also famously bad at drawing people (especially women). In a way, I suppose this was merely being true to his art. Incredible action, captivating super-science, unbelievable people… Paul captured the heart and soul of pulp science fiction, both good and bad.
There's been precious little attention paid to Frank R. Paul in the past few decades. Stephen D. Korshak edited Frank R. Paul: Father of Science Fiction Art, a slim 128-page volume from 2010, but that's about it.
Jerry Weist set out to rectify that several years ago. Weist is something of a legend among comic collectors. He published one of the high water marks of early comic fandom from 1967 to 1983, E.C. Comics fanzine Squa Tront, and opened one of the first successful comic stores, The Million Year Picnic, in Boston in 1974. He was an expert on comic and pulp art, and wrote two editions of The Comic Art Price Guide. He was nominated for a Hugo for his 2002 biography, Ray Bradbury: An Illustrated Life (2002), and wrote The 100 Greatest Comic Books in 2004.
Weist's Frank R. Paul: The Dean of Science Fiction Illustration is a gorgeous and long-overdue tribute. It contains a detailed biography, and lengthy — and copiously illustrated, in full color — chapters on The Early Gernsback Era, The Amazing Years, The Wonder Years, and Superworld Comics, with a full-color reproduction of the artist's 1940 comic story "Mitey Powers Battles the Martians on the Moon."
There's also a 40-page Original Art Gallery, a section of gorgeous, full-page reproductions of some of Paul's most famous work, photographed from the original art. It's the largest assemblage of Paul paintings ever published in a single book. There's also a 20-page black & white scrapbook, featuring some of Paul's most innovative and striking work.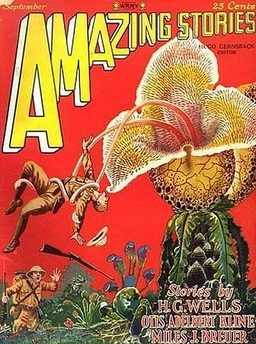 But the final section of the book is the most rewarding: a massive 38-page Illustrated Bibliography showcasing no less than 329 covers by Frank R. Paul, all in full color, for Air Wonder Stories,  Famous Fantastic Mysteries, Dynamic Science Fiction, Future Fiction, Planet Stories, Science and Mechanics, Science Fiction, Science Fiction Plus, Science Wonder Stories, Wonder Stories, and many others. It even includes the delightful back covers he did for Amazing and Fantastic Adventures throughout the early 40s.
The editors make no claim that this is a complete catalog of his cover work, but trust me when I tell you it's as complete as you're ever likely to find.
I find the first few sentences of the book description, reportedly written by Robert Weinberg, to be right on target:
Frank R. Paul wasn't the first artist to specialize in science fiction, nor was he the best. Still, without question, he was the most important. More than any other illustrator, he was responsible for the early popularity and growth of the science fiction field.
Jerry Weist had finished much of the work on the book, but he was unable to complete it. He died on January 7, 2011, after a long struggle with cancer, at age 61. The book was completed, at his request, by his friends Glynn Crain and Roger Hill, who wrote a touching memorium to Weist that closes out the book.
Frank R. Paul: The Dean of Science Fiction Illustration was written by Jerry Weist and edited by Glynn Crain and Roger Hill. It was published by IDW Publishing on February 12, 2013. It is 160 pages in oversized hardcover, with glossy paper and full color interiors, priced at $29.99. There is no digital edition.
It gets my highest recommendation.