Black Gate Online Fiction: "Truck Stop Luck" by Nina Kiriki Hoffman
Black Gate Online Fiction: "Truck Stop Luck" by Nina Kiriki Hoffman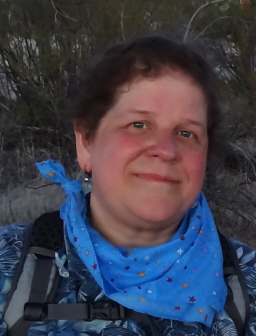 Someone has turned all of Keith Sharp's family into statues, and he's trying to find out how and why — and what he can do to fix the situation. But as he soon discovers, that's the least of his problems.
"Someone made statues of your family, you're hauling them around, and you don't know why," Mike asked.

"Yeah, I guess," said Keith.

Mike stood up, and shrugged into a ragged, full-length black leather jacket. "I want to see these statues of yours," he said.

"You're not used to this, are you?" he asked when they had stepped outside into the pouring rain.

"Used to what?" Keith had to raise his voice to be heard over the water.

"Dealing with people like me. People who do things like this." Mike's hand gripped the back of Keith's neck, and Keith felt heat flash from Mike's fingers into his brain. Keith led him to where the van and trailer were parked. I shouldn't be doing this, Keith thought. Thinking didn't stop his eager trot toward his cargo, though. Mike's fingers were hot on his neck, invasive, as though they were plugged into him.

"Statues," Mike murmured. He dragged Keith closer, and reached for the rope that held the tarp down. Wind sneaked under the tarp and lifted it, revealing Ma and Pa, James and Olivia, Mary and Sadie.

"Mighty fine collection," said Mike." I'm going to have me some fun with this lot. Give me the keys to your car."

Keith fished the keys out of his pocket. He dropped them in Mike's outstretched claw.
Over the past thirty years, Nina Kiriki Hoffman has sold adult and YA novels and more than 250 short stories. Her works have been finalists for the World Fantasy, Mythopoeic, Sturgeon, Philip K. Dick, and Endeavour awards. Her fiction has won her a Stoker and a Nebula Award. Ace published several of Nina's adult novels, among them Fistful of Sky and Fall of Light. Viking published Nina's Young Adult fantasy novels, including Stir of Bones, Spirits that Walk in Shadow, Thresholds, and Meeting. A collection of her short stories, Permeable Borders, was published in 2012 by Fairwood Press.
The complete catalog of Black Gate Online Fiction, including stories by Ryan Harvey, Emily Mah, David C. Smith and Joe Bonadonna, Aaron Bradford Starr, Mark Rigney, C.S.E. Cooney, Vaughn Heppner, E.E. Knight, Howard Andrew Jones, Harry Connolly, and others, is here.
"Truck Stop Luck" is a complete 12,000-word short story of contemporary fantasy. It is offered at no cost.
Read the complete story here.