Black Gate Online Fiction: "Awakening" by Judith Berman
Black Gate Online Fiction: "Awakening" by Judith Berman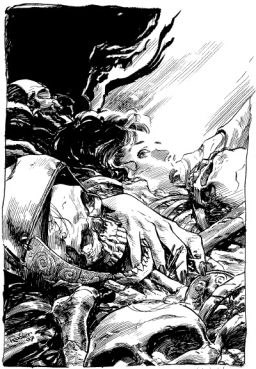 Amidst dark necromancy, haunted ruins, centuries-spanning intrigue, a secret oracle, and unquiet dead… an unlikely heroine awakens.
The nightmare began when she opened her eyes and saw the leathery face of a corpse as close to her as a lover's. She started up with a cry, heart pounding, and found bony hands tangled in her hair, and the smell of cold decay. She tried to jump to her feet, but beneath her dead men were piled up layer on layer and she could get no purchase. Whimpering, she clawed her way toward the only door of the dim chamber.

Rubble blocked the stair. She dug at the loose stones, breaking all her nails; she pounded on them, screaming for help. She screamed until she had no more breath. No one came to let her out.

Trembling, hugging herself, she slid down to sit upon a stair. The corpses gazed back at her. Only scraps of dried flesh adhered to their faces. Their swords were broken, their armor rusted, the quilted leather of their jackets had rotted to fragments like old leaves.

The dead lay still now, but as they stared at her, she became ever more certain that she did not imagine their restlessness.

They must, she thought suddenly, have been walled up to stop them walking.
Judith Berman's novella "Awakening" originally appeared in Black Gate 10, and was one of the most acclaimed stories we've ever published. It was nominated for a 2007 Nebula Award for Best Novella, and Sherwood Smith of Tangent Online wrote:
"Awakening" by Judith Berman begins with the protagonist — unnamed — waking to her lover's long-dried and crumbled corpse next to her… She encounters then escapes her lord, a sorcerer who has been consuming the souls of the dead so he can stay alive in a twilight existence between the physical world and the gate to death… This story calls to mind fantasies of eighty and a hundred years ago, full of the crumbling remains of ancient civilizations and old rituals that evoked that fin-de-siecle sense of the world's end… This is a terrific story, beautifully realized and intelligently written — well worth the price of the magazine all on its own.
"Awakening" is a complete 18,000-word novella of adventure fantasy offered at no cost. It is the loose sequel to "The Poison Well," published right here last week.
Read the complete story here.