Black Gate 10 — Spring 2007
Black Gate 10 — Spring 2007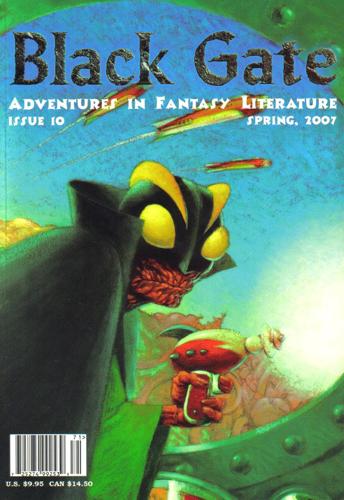 224 pages, $9.95
On Sale March 18, 2007
Edited by John O'Neill
Published by New Epoch Press
Cover Art by Denis Rodier
Interior Art by Storn Cook, Mark Evans, John Kaufmann, Chuck Lukacs, Malcolm McClinton, Bernie Mireault, Jim Pavelec, and Denis Rodier
---
FICTION
"Soldiers of a Dying God"
by Harry James Connolly
They were the work of ages… and it was the Royal Engineer's duty to destroy them forever.
"A Book of Silences"
by James Enge
In which Morlock the Maker finds a wizard who lingered and a book with the most fatal of conclusions.
"Reflections"
by Martha Wells
All Giliead & Ilias wanted was the wizard. But something in the forest wanted them…
"Welcome to the Underworld"
by Iain Rowan
Dao-Shi sought only the swiftest exit from the city. Instead he found a ship of fools, and a raft full of pirates.
"The Naturalist: Going to Applewash"
by Mark Sumner
It's not easy being a naturalist in the wild. Especially when the specimens start tracking you.
"A Covenant in Mud"
by Greg Story
Judy found the perfect plot of land… except for the mud people who visited at night.
"Skyspider"
by David Dubord
A threat from beyond sends an unlikely hero after the wisdom of the grandmother spider.
"Before the Wind"
by Edward Carmien
Kris's craft was smashed, and there was nowhere to turn but the old crafter, who delivered more than she could've imagined.
"Awakening"
by Judith Berman
Amidst dark necromancy, haunted ruins, centuries-spanning intrigue, a secret oracle, and unquiet dead… an unlikely heroine awakens. An unusual sequel to the author's "The Poison Well" (Black Gate 7)
"Sight of Vengeance"
by Howard Andrews Jones
Thus came the slayer of men and taker of sight; could Dabir and Asim stop it before it killed again?
---
FEATURES
The Big Little SF Magazines of the 1970s
by Rich Horton
---
DEPARTMENTS
Editorial: Bug-Eyed Wonder
by John O'Neill
Letters
From Our Readers
Back Issues
A list of rare (but miraculously still available) back issues of Black Gate.
Next Issue
More from Martha Wells, Mark Sumner, James Enge, Iain Rowan, and many others. What have you done to be so lucky?
---
REVIEW FEATURES
Book Reviews
Bear Daughter, by Judith Berman
Dragon Avenger: Book Two of the Age of Fire, by E. E. Knight
Every Inch A King, by Harry Turtledove
Bran Mak Morn: The Last King, by Robert E. Howard
Adrift on the Haunted Seas: The Best Short Stories of William Hope Hodgson,
by William Hope Hodgson
Hook House and Other Horrors, by Sherry Decker
Can't Catch Me, And Other Twice Told Tales, by Michael Cadnum
Firebirds Rising, by Sharyn November
His Majesty's Dragon, by Naomi Novik
Throne of Jade, by Naomi Novik
Black Powder War, by Naomi Novik
Haunted, by Chuck Palahniuk
by Charlene Brusso, Sabrina Dechene, Lisa DuMond, Sue Granquist, Rich Horton, Howard Andrew Jones, Jackson Kuhl, & Todd Ruthman
---
GAMING
Fantasy Game Reviews
Dungeon Crawl Classics, Goodman Games
— #3: The Wizard's Tower
— #23: The Sunken Ziggurat
— #34: Cage of Delirium
The Iron Kingdoms, Privateer Press
— Iron Kingdoms Character Guide
— Iron Kingdoms World Guide
— Warmachine: Prime
— Hordes
Agon, John Harper, Lulu
Serenity Role-Playing Game, Margaret Weis Productions, Out in the Black
Monsters' Lairs Vol. 1: Goblins' Caves, The Forge Studios
Bits of Darkness: Dungeons, Tabletop Adventures
Bits of Darkness: Caverns, Tabletop Adventures
Legends of the Ancient World: The Island of Lost Spells, George Dew, Dark City Games
by Howard Andrew Jones, Andrew Zimmerman Jones, Patrick Ross, and Todd McAulty
---
COMICS
Knights of the Dinner Table: The Java Joint
by Jolly Blackburn, John O'Neill, and Steve Johansson