Black Gate Online Fiction: "The Poison Well" by Judith Berman
Black Gate Online Fiction: "The Poison Well" by Judith Berman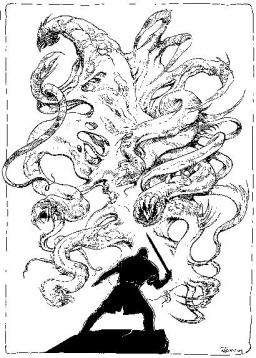 Manvayar's old master had been exposed as a secret necromancer… would that horrific experience give Manvayar the insight he'd need to ferret out the truth behind a rash of sorcerous killings?
Suddenly the oppression in the air condensed into cold threat, and an overpowering stink of rotting flesh rolled over him. The mare screamed and bolted past Manvayar. He spun around. A speck hung for an instant in his vision, then swelled. First it looked like a cloud of bloody pus suspended in water. Then, still growing, it congealed into a tangle of pinkish webbing and glistening limbs. Some of the limbs ended in groping hands, some bore toothy leeches' mouths.

The exhilaration of pure hatred rushed through Manvayar. The necromancer was here! He narrowed his attention to the width of a sword blade, reached to the roots of his soul and ripped out a piece of his own substance, which he formed into Nariyo words of command and hurled at the creature. The words sank into its flesh. It thrashed but kept swelling outward until it was twice as high as a man and its limbs writhed toward the manor windows.

A man was screaming. Inside the stables, horses whinnied and crashed against their stalls. The stench of putrefaction choked him.

Manvayar took a few steps forward. His sword was already in his hand.
"The Poison Well" originally appeared in Black Gate 7, and was widely acclaimed. Patrick Samphire at Tangent Online wrote:
Mage and warrior Manvayar fled his former master when he discovered his master was a secret necromancer. Now he is assisting the death priest, Seppan, in a search for a necromancer whose creations have killed two men. Their hunt leads them to an unwelcoming manor house where the deaths occurred… Berman is an excellent writer. She smoothly juggles the various elements of the story — the secret of the poison well, the hidden necromancer, the hostile family of the lord of the manor, and Manvayar's past… Manvayar is haunted by vivid dreams of his former master, yet his master has no part to play in this story… the reader is left wondering whether "The Poison Well" is the first part of a series. I certainly hope so; this was a fascinating and well-written piece that deserves its place opening the issue.
"The Poison Well" is a complete 14,000-word novelette of adventure fantasy offered at no cost. As Patrick astutely surmised, it was the first in a thrilling series; the second installment, "Awakening," which explores the back-story of Manvayar's former master, appeared in Black Gate 10 and was nominated for a Nebula Award for Best Novella of 2007. We will present "Awakening" in its entirely next week.
You can see the complete catalog of Black Gate Online Fiction here.
Read the complete story here.