Martha Wells' Emilie and the Hollow World On Sale Today
Martha Wells' Emilie and the Hollow World On Sale Today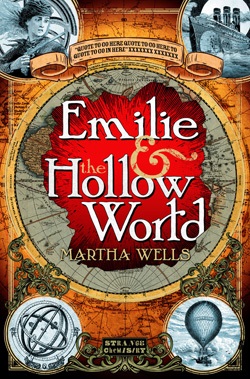 Martha Wells is one of our superstar contributors. In fact, it's probably not an exaggeration to say that, in terms of raw ability to move sales, she was the superstar contributor to Black Gate.
Every magazine has authors who help sales. But it wasn't until we published Black Gate 10, containing Martha's Giliead & Ilias story "Reflections," that I really saw what a single author could do. Subscriptions started to pour in, with letters from excited fans asking for "More Martha Wells!" We were happy to comply.
Novels are where she truly built her career, however — including The Fall of Ile-Rien trilogy, The Cloud Roads trilogy, and the Nebula-nominated The Death of the Necromancer. Today her first young adult novel, Emilie and the Hollow World, arrives in bookstores, and Martha discussed the ups and downs in her career that led her here with refreshing candor on her blog:
This is the third book I finished back in 2009, during my career crash that lasted from around 2006-2007 to 2010. A career crash for a writer is kind of like if you had a job where you've been going in to work every day and everything seems fine. But then gradually, over time, you realize you've been fired, and they don't want you there and they aren't going to pay you and everyone you work with knows this. It's just that no one has told you.
The novel follows the adventures of young Emilie, whose clumsy attempt to run away and join her cousin in the big city lead her to stowaway on the wrong ship, where she's quickly caught up in a grand adventure involving an experimental engine, an attempt to ride the aether currents, and a journey to the interior of the planet — not to mention sabotage, an encounter with the treacherous Lord Ivers, and the strange race of the sea-lands.
Emilie and the Hollow World was published today by Strange Chemistry. It is 304 pages in paperback for $9.99 ($6.99 for the digital edition). The only version of the cover we have is the pre-publication version (which still has a placeholder quote), but you can see all the detail on this handsome cover by clicking on the image at right.