New Treasures: Pax Britannia: Pax Omega, by Al Ewing
New Treasures: Pax Britannia: Pax Omega, by Al Ewing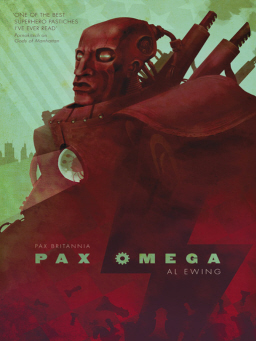 I have a weakness for pulp fiction. There aren't a lot of practitioners of true pulp fantasy today — as opposed to pulp parody, which seems to be all too common.
A notable exception is Al Ewing, whose first novel of the Pax Britannia series, El Sombra, featured stormtroopers from the Ultimate Reich, mechanized horrors terrorizing a small Mexican town, and the torture-parlors of Master Minus and his Palace Of Beautiful Thoughts. The second installment, Gods of Manhattan, introduced The Blood Spider, Doc Thunder, and the monstrous plans of the Meccha-Fuhrer, set against the backdrop of the steam-powered city of tomorrow, New York USS. The final volume of the trilogy, Pax Omega, arrived this spring and sounds like the most intriguing of the bunch.
Doc Thunder's last stand against a deadly foe whose true identity will shock you to your core! El Sombra's final battle against the forces of the Ultimate Reich! The Locomotive Man in a showdown with cosmic science on the prairies of the Old West! Jackson Steele defends the 25th Century against the massed armies of the Space Satan! A duel of minds in the mystery palaces of One Million AD! Blazing steam-pulp sci-fi the way you crave it! From the Big Bang to the End Of Time — eleven tales from Pax Britannia's past, present and distant future combine into one star-spanning saga set to shake the universe to its foundations –- or destroy it!
That's a lot of exclamation marks. But when your sentences include words like Ultimate Reich and Space Satan, I guess they look kinda naked without 'em.
I don't have the other two volumes, and I wonder if I can start with this one. I'll give it a try and let you know.
Pax Britannia: Pax Omega was published by Abaddon in April, 2012. It is 266 pages in trade paperback for $9.99, or $5.99 for the digital edition.