Black Gate Online Fiction: "The Cremator's Tale" by Steven H Silver
Black Gate Online Fiction: "The Cremator's Tale" by Steven H Silver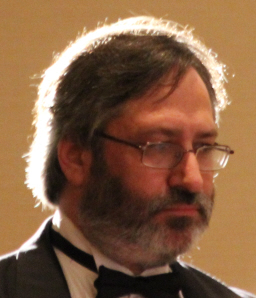 When the explosion appeared high above Pargama's Tower, Hoggar the Cremator was sent to clean up the mess. But things are rarely what they appear to be — especially when dealing with wizards.
"One of my dim-witted apprentices was working in the secluded laboratory this evening," Pargama said. "I regret to say he is no longer in this world. I have an important experiment which must be performed when Granhouck reaches its zenith and need Imuhagh's remains collected by then."

As Pargama spoke, the two men climbed the tower's stairs, winding in a tight circle around the inner core of the tower. Eventually the two men stood at the heavy metal door at the uppermost reaches of the tower.

"You should have no problem collecting Imuhagh, but if you do, please ring the bell you'll find on the table inside. Ōjín will come to give you assistance." Without waiting for a response, Pargama turned and descended the stairway.

Hoggar found himself within the familiar walls of Pargama's secluded laboratory. The walls were charred black. The floor was littered with broken furniture and glass. A few pieces of human bone could be seen around the room, but it was obvious that most of Imuhagh's body had been burnt to ash. Hoggar dropped his bag onto the floor and reached to his belt for the small bag. Removing some more powder, he began the ritual to Lord Reyjnayak.
Steven H Silver has spent a great deal of his non-professional life involved with books. In addition to writing stories and poetry (and getting a few of them published), he's edited three anthologies for DAW Books and two collections of Lester del Rey's short fiction for NESFA Press. He launched ISFiC Press and spent eight years as the publisher and editor. Steven also publishes the Hugo-nominated fanzine Argentus.
The complete catalog of Black Gate Online Fiction, including stories by Nina Kiriki Hoffman, Ryan Harvey, Emily Mah, David C. Smith and Joe Bonadonna, Aaron Bradford Starr, C.S.E. Cooney, Vaughn Heppner, E.E. Knight, Howard Andrew Jones, Harry Connolly, and others, is here.
"The Cremator's Tale" is a complete 5,300-word short story of weird fantasy. It is offered at no cost.
Read the complete story here.