Black Gate Online Fiction: The Death of the Necromancer, Part Three
Black Gate Online Fiction: The Death of the Necromancer, Part Three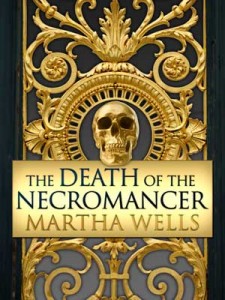 Black Gate is very proud to present Part Three of Martha Wells's Nebula Award-nominated novel, The Death of the Necromancer, presented complete online for the first time. Here's a quote from Donna McMahon's SF Site review:
It's relatively easy to convey the plot of Necromancer, but far more difficult to describe the extraordinary texture of its setting. The city of Vienne has an Italian Renaissance flavour, plus nineteenth century technology, hints of Victorian England, and even whiffs of A Tale of Two Cities and The Tempest. From this seemingly improbable mix of historical and fantasy elements, Martha Wells creates a stunningly vivid society…

Wells' characters are equally compelling: among them Nicholas, who is a gentle man with a dark streak of rage; Madeline, the ambitious actress who lives with him; Reynard, the disgraced but proud army officer; and Crack, the tough, terse henchman. And there are many more, none of them forgettable.

Still, Necromancer's most impressive feature may be its complex, twisting plot and swift pacing, which kept me glued to the pages… this is a terrific novel. Wells is in a league with top writers like Lois McMaster Bujold and Barbara Hambly.
Martha Wells is the author of fourteen fantasy novels, including City of Bones, The Element of Fire, The Cloud Roads, and The Serpent Sea. Her most recent novel is the YA fantasy, Emilie and the Hollow World, published by Strange Chemistry Books in April. Her previous fiction for us includes "Reflections" in Black Gate 10, "Holy Places" (BG 11), and "Houses of the Dead" (BG 12). Her most recent article for us was "How Well Does The Cloud Roads Fit as Sword and Sorcery?," which appeared here March 13. Her web site is www.marthawells.com.
The complete catalog of Black Gate Online Fiction, including stories by Mary Catelli, Michael Penkas, Vera Nazarian, Ryan Harvey, Nina Kiriki Hoffman, E.E. Knight, C.S.E. Cooney, Howard Andrew Jones, Harry Connolly, and many others, is here.
The Death of the Necromancer was originally published in hardcover by Avon EOS in 1998. The complete, unedited text will be presented here over the next three weeks; it began on June 2 with the first four chapters here.
Part Three includes Chapters Nine through Thirteen. It is offered at no cost.
Read Part Three of the complete novel here.