A Reader's Guide to Sword & Sorcery Magazines
A Reader's Guide to Sword & Sorcery Magazines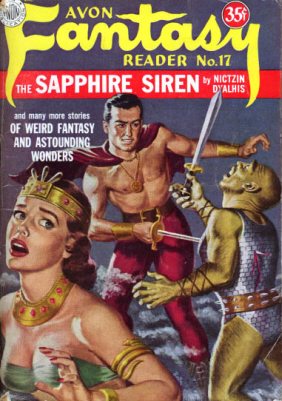 I recently stumbled across G.W. Thomas' marvelous Reader's Guide to Sword & Sorcery Magazines, which is well worth a look for short fiction readers interested in the history of the genre.
G.W. Thomas is editor and publisher of Dark Worlds,  the pulp-Descended magazine of Science Fiction, Fantasy, Horror, Mystery and other genres.  Dark Worlds was nominated for the Harper's Pen Award earlier this year for Michael Ehart's original sword & sorcery tale "Tomb of the Amazon Queen."
But back to the Reader's Guide already. You should check it out, it's cool.  There are more complete magazine guides out there, certainly — the amazing Coverpop site, for example, with scans of literally thousands of old SF magazines, and a truly fun all-in-one SF Cover Explorer, as well as the magazines section of The Ultimate Science Fiction Web Guide, and even Wikipedia's Science Fiction Magazine entry is pretty darn comprehensive — but few assembled with such a  focus on, and devotion to, heroic fantasy.
Thomas's guide covers all the magazines that were instrumental in shaping modern Sword & Sorcery, starting with Weird Tales and Strange Tales, and continuing through Unknown, The Avon Fantasy Reader, Fantasy & Science Fiction, Fantastic, Weirdbook, Dragon, and many more. In between he also highlights lesser known (but still fascinating) titles such as The Fantasy Fan (1933-1935) and Midnight Sun (1974-1979). Finally, he provides links to some of the best sources of online S&S today, including Beneath Ceaseless Skies, Heroic Fantasy Quarterly, Silver Blade, and Sorcerous Signals.
Here's what he says about Black Gate:
This recent publication is the hottest place to read new S&S today. With authors like Martin Owton, Howard Andrews Jones, Charles Coleman Finley, Darrell Schweitzer, Charles deLint , it delivers a mix of Sword & Sorcery and other forms of Fantasy.
The guide includes some magnificent cover art, commentary from G.W, and links. The commentary is very short, and you can read through the entire guide in a few moments.  But the fiction it will introduce you to will last a lifetime. 
If you enjoyed the Reader's Guide to Sword & Sorcery Magazines, you will likely also enjoy his broader and more ambitious Reader's Guide to Sword & Sorcery, which also covers anthologies, short fiction, comics, TV/films, and much more.  I especially recommend his encyclopedic A-to-Z Guide to S&S authors, which covers virtually every major S&S writer of the last century, with copious cover scans of much of their major work. It's still being updated, with links to work published as recently as last year. It's like wandering though a well-stocked library.