Black Gate Online Fiction: The Death of the Necromancer, Part Four
Black Gate Online Fiction: The Death of the Necromancer, Part Four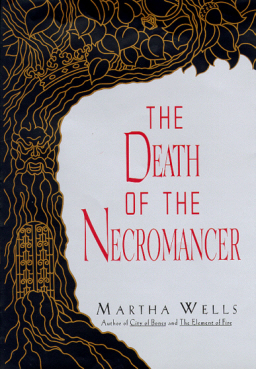 Black Gate is very proud to present Part Four of Martha Wells's Nebula Award-nominated novel, The Death of the Necromancer, presented complete online for the first time. On her blog, Martha describes the book thusly:
It's basically about a Moriarty-like master criminal and his friends in an otherworldy version of La Belle Epoque Paris with magic, who get involved in a clandestine battle with a sorcerer who seems to be trying to raise the dead.
And Publishers Weekly had this to say about the novel:
The setting echoes with the lively sounds and sights of turn-of-18th-century France, with a mesh of dark magic woven throughout. In her third novel, Wells (City of Bones; The Element of Fire) continues to demonstrate an impressive gift for creating finely detailed fantasy worlds rife with many-layered intrigues and immensely personable characters.
Martha Wells is the author of fourteen fantasy novels, including City of Bones, The Element of Fire, The Cloud Roads, and The Serpent Sea. Her most recent novel is the YA fantasy, Emilie and the Hollow World, published by Strange Chemistry Books in April. Her previous fiction for us includes "Reflections" in Black Gate 10, "Holy Places" (BG 11), and "Houses of the Dead" (BG 12). Her most recent article for us was "How Well Does The Cloud Roads Fit as Sword and Sorcery?," which appeared here March 13. Her web site is www.marthawells.com.
The complete catalog of Black Gate Online Fiction, including stories by Mary Catelli, Michael Penkas, Vera Nazarian, Ryan Harvey, Nina Kiriki Hoffman, E.E. Knight, C.S.E. Cooney, Howard Andrew Jones, Harry Connolly, and many others, is here.
The Death of the Necromancer was originally published in hardcover by Avon EOS in 1998. The complete, unedited text is being presented here; it began on June 2 with the first four chapters here.
Part Four includes Chapters Fourteen through Eighteen. It is offered at no cost.
Read Part Four of the complete novel here.