Parke Godwin, January 28, 1929 – June 19, 2013
Parke Godwin, January 28, 1929 – June 19, 2013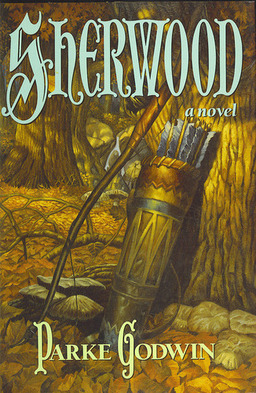 Parke Godwin, the American author of more than a dozen fantasy novels, died this week.
I first encountered Godwin with The Masters of Solitude, his 1978 science fiction collaboration with Weird Tales editor Marvin Kaye. They wrote one sequel, Wintermind (1982), and one horror novel together: A Cold Blue Light (1983).
But I'll chiefly remember Godwin for my favorite Robin Hood adaptation, Sherwood, published in hardcover by William Morrow & Co. in August 1991. The novel follows young Edward Aelredson, Thane of Denby, who's driven from his home by Norman invaders and takes refuge in primeval Sherwood forest — where he meets a surprising cast of characters and gradually becomes a thorn in the side of the usurping king. Set during the Norman conquest, Sherwood features both William the Conqueror and William Rufus as major characters. Godwin wrote one sequel, Robin and the King, in 1993.
Sherwood was perhaps his most successful book, but he's also fondly remembered for his Arthurian trilogy set in 5th century Britain during the collapse of the Roman empire: Firelord (1980), Beloved Exile (1984), and The Last Rainbow (1985).
Godwin's first novel was Darker Places (1973), his last was Prince of Nowhere, published in 2011. In between, he wrote a number of popular historical and romantic fantasies, including A Truce with Time (1988), The Tower of Beowulf (1995), and Lord of Sunset (1998). He also turned his hand to solo science fiction with Limbo Search (1995) and the humorous Snake Oil series: Waiting for the Galactic Bus (1988) and The Snake Oil Wars (1989).
As an editor he produced Invitation to Camelot (1988) and, with Marvin Kaye, one collection of Weird Tales reprints, Weird Tales: The Magazine That Never Dies (1988). He had one short story collection, the Hugo-nominated The Fire When It Comes (1984), which included the World Fantasy Award-winning title story.
His short story "Influencing the Hell out of Time and Teresa Golowitz," (Twilight Zone magazine, January, 1982) was adapted as "Time and Teresa Golowitz," an episode of The Twilight Zone TV show in 1986.
Parke Godwin was born in New York City in 1929, and lived there much of his life. He died on Wednesday at the age of 84.