Vintage Treasures: The Worlds of Jack Vance
Vintage Treasures: The Worlds of Jack Vance
We live in an age where an astonishing amount of pulp science fiction and fantasy is readily available, both in print and digital formats. Want to read the complete stories of Leigh Brackett, or Fredric Brown, or Robert E. Howard, or Clark Ashton Smith, or Harold Lamb, or dozens of other fabulous pulp writers? For the first time in decades, they're all available in handsome permanent editions and digital compilations. As well as inexpensive pulp reprints, if that's your thing. And if you're a serious collection who really wants the joy of tracking down each story in its original format… well, that's easier than ever as well, thanks to online sites like eBay and Amazon.
So really, if you're a fan of 20th Century SF and fantasy, you don't have much to complain about. Unless, like me, you remember mass market collections and anthologies. Gone are the days when books like The Worlds of Jack Vance would line bookstore shelves, and that's a shame.
The Words of Jack Vance is a delightful collection of some of the very best of Vance's early fiction, including "The Moon Moth" (1961), one of his most brilliant stories, alongside three Magnus Ridolph tales, a novella in his Nopalgarth story cycle, and four other stories. It's terrific introduction to one of the most gifted fantasists of the 20th Century. Sure, there are similar collections published today — the five volumes of The Early Jack Vance from Subterranean Press, for example. But they cost $45 each, which means not too many people (if any) will be buying them to try Vance for the first time. That Ace paperback? It's $1.25.
So yeah, gone are the days when reprint collections sold in mass market paperback, and anyone could afford them. But that's okay. Because paperback copies of The Worlds of Jack Vance — and much of his back catalog, in fact — are still available, and much of it is surprisingly affordable. For example, last time I checked there were no less than three copies of The Worlds of Jack Vance offered on eBay, starting at $4.95.
That's less than the price of a new paperback. So maybe we don't have anything to complain about after all.
Here's the table of contents of The Worlds of Jack Vance.
"The World Between" (Future Science Fiction, May 1953)
"The Moon Moth" (Galaxy Magazine, August 1961)
"Brain of the Galaxy" (Worlds Beyond, February 1951)
"The Devil on Salvation Bluff" (Star Science Fiction Stories No. 3, 1955)
"The Men Return" (Infinity Science Fiction, July 1957)
"The Kokod Warriors" (Thrilling Wonder Stories, October 1952)
"The King of Thieves" (Startling Stories, November 1949)
"Coup de Grace" (Super-Science Fiction, February 1958)
The Brains of Earth (1966)
The Nopalgarth novella The Brains of Earth was originally published as an Ace Double in 1966, paired with the collection The Many Worlds of Magnus Ridolph.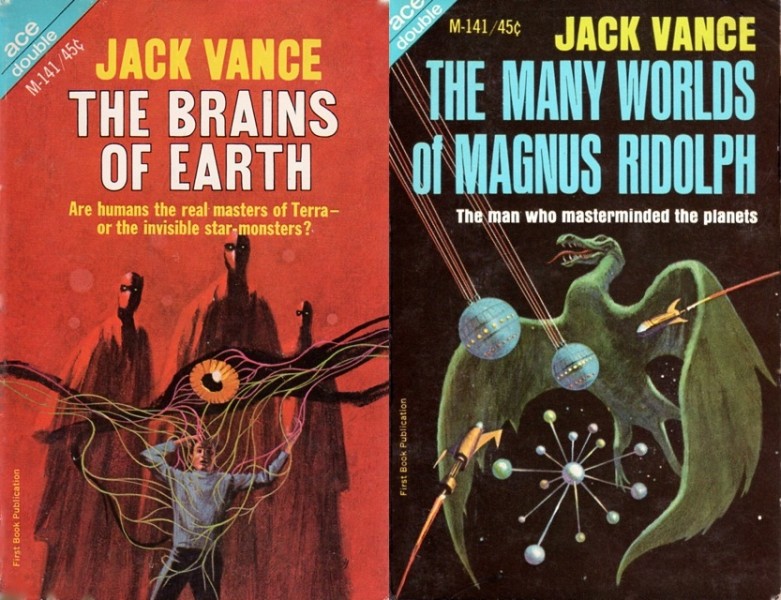 Covers for both were by Jack Gaughan.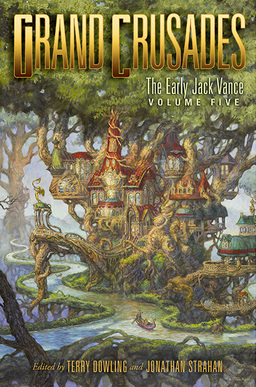 Our most recent coverage of Jack Vance includes:
Lyonesse: Suldrun's Garden by Fletcher Vredenburgh
The Durdane Trilogy
The Omnibus Volumes of Jack Vance, Part I: Planet of Adventure
The Omnibus Volumes of Jack Vance, Part II: Tales of the Dying Earth
The Omnibus Volumes of Jack Vance, Part III: The Demon Princes
Madouc
Dream Castles: The Early Jack Vance, Volume Two
Magic Highways: The Early Jack Vance, Volume Three
Minding the Stars: The Early Jack Vance, Volume Four
Grand Crusades: The Early Jack Vance, Volume Five
Big Planet by Jack Vance
Jack Vance and Appendix N: Advanced Readings in D&D
The Dying Earth: An Appreciation
Jack Vance, August 28, 1916 — May 26, 2013
New Treasures: Songs of the Dying Earth
New Books: Tales of the Dying Earth
The Worlds of Jack Vance was published in December 1973 by Ace Books. It is 302 pages, priced at $1.25. The cover artist is unknown. It has never been reprinted, and there is no digital edition.
See all of our recent Vintage Treasures here.