Unbound Worlds on 7 Great Occult Detectives
Unbound Worlds on 7 Great Occult Detectives
Matt Staggs seems to be most productive blogger over at Unbound Worlds, the house blog of Penguin Random House. He's certainly produced most of my favorite stuff over there recently, including 4 Epic Fantasy Novels Written Before The Lord of the Rings, Have a Look at D&D Creator Gary Gygax's FBI File, and 3 Great Novels to Read After You've Seen Wonder Woman.
But the piece I find myself returning to multiple times in the past two weeks is his June 5th article "7 of Urban Fantasy's Great Occult Detectives," in which he showcases some of the recent heroes and heroines who've followed in the footsteps of famous ghost hunters like Carnacki The Ghost Finder, Jules de Grandin, Aylmer Vance, John Thunstone, Titus Crow, and many others. Staggs proves this proud sub-genre is far from dead, and his proof includes series from Jim Butcher, Daniel José Older, Seanan McGuire, Laurel K. Hamilton, and others. Here's a few of my favorites from his list.
[Click the images for bigger versions.]
Harper Blaine
Series: Greywalker
Book One: Greywalker
by Kat Richardson
Seattle PI Harper Blaine survived a near-death experience and gained the ability to pass through the Grey: a shadowy world between not only the living and dead, but also the magical and mundane. This isn't exactly a gift: Blaine didn't choose to be plunged into this world, and she isn't always welcome there.
Peter Grant
Series: Rivers of London
Book One: Midnight Riot
by Ben Aaronovitch
Metropolitan Police Officer Peter Grant wants to be a homicide investigator, but the supernatural world has other plans. Following an encounter with a ghost, Grant is assigned to a special unit investigating paranormal threats to the kingdom. When your beat includes gods and spirits, a nightstick and whistle just won't do. Grant's going to have to learn magic.
(We've covered several titles in this series already, including Rivers of London, Broken Homes, Foxglove Summer, and The Hanging Tree.)
John Taylor
Series: Nightside
Book One: Something from the Nightside
by Simon R. Green
Investigator John Taylor was raised in the Nightside: a supernatural sanctuary beyond the forces of Heaven and Hell. The bad side of the Nightside, actually. As a child of the ancient spirit known as Lilith, Taylor has a very unique ability: He can find lost things. That's not as trivial as it sounds, though, and John has some very powerful enemies. If you've come to a point where you need John's help, then things have become dire, indeed.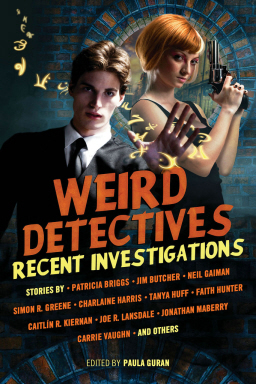 For the dedicated fan of supernatural sleuths (which I assume describes all you lot), here's some of our previous articles on the topic:
The Leonaur Book of Supernatural Detectives
Dark Detectives: An Anthology of Supernatural Mysteries, edited by Stephen Jones
Weird Detectives edited by Paula Guran
The Son of Satan from Marvel Comics
The Dance of Death by Algernon Blackwood
The Casebook of Sexton Blake, edited by David Stuart Davies
The Black Veil & Other Tales of Supernatural Sleuths, edited by Mark Valentine
The Madness of True Detective
Sgt. Janus Returns by Jim Beard
The Yard by Alex Grecian
The Casebook of Carnacki The Ghost Finder by William Hope Hodgson
The Shapes of Midnight by Joseph Payne Brennan
The Complete John Thunstone by Manly Wade Wellman
The Silver John stories by Manly Wade Wellman
Not to mention the greatest occult investigator of all time, Kolchak the Night Stalker.
If you're serious about supernatural sleuths, I urge you to read through Josh Reynolds's encyclopedic survey of the genre, Nightmare Men, right here at Black Gate. And our course, don't miss the terrific new magazine Occult Detective Quarterly.