New Treasures: Ben Aaronovitch's Rivers of London
New Treasures: Ben Aaronovitch's Rivers of London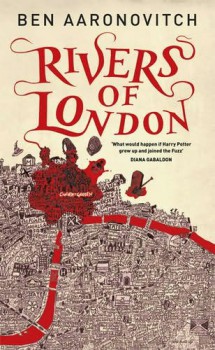 One of the great things about Amazon.com is that there are so many ways to browse. Which is rather ironic, considering that 10 years ago that's the precise reason I confidently gave for why online booksellers would never replace local bookshops: you couldn't browse.
Yeah, well. I was wrong.  You can browse.  And how. Last week I stumbled across a few hard-to-find British hardcovers in the Science Fiction & Fantasy section of their Bargain Department, and on a hunch I did a search for all titles from Gollancz, the prolific UK SF & fantasy publisher. I sorted by price and bam, I had a handy list of great bargain Gollancz books.
One that grabbed my attention immediately was Ben Aaronovitch's Rivers of London, in hardcover for just $14.56:
My name is Peter Grant and until January I was just probationary constable in that mighty army for justice known to all right-thinking people as the Metropolitan Police Service (as the Filth to everybody else). My only concerns in life were how to avoid a transfer to the Case Progression Unit – we do paperwork so real coppers don't have to – and finding a way to climb into the panties of the outrageously perky WPC Leslie May. Then one night, in pursuance of a murder inquiry, I tried to take a witness statement from someone who was dead but disturbingly voluable, and that brought me to the attention of Inspector Nightingale, the last wizard in England.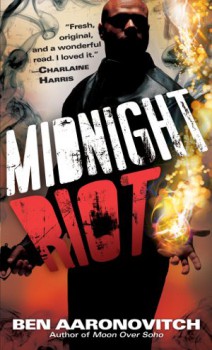 Now I'm a Detective Constable and a trainee wizard, the first apprentice in fifty years, and my world has become somewhat more complicated: nests of vampires in Purley, negotiating a truce between the warring god and goddess of the Thames, and digging up graves in Covent Garden . . . and there's something festering at the heart of the city I love, a malicious vengeful spirit that takes ordinary Londoners and twists them into grotesque mannequins to act out its drama of violence and despair. The spirit of riot and rebellion has awakened in the city, and it's falling to me to bring order out of chaos – or die trying.
Diana Gabaldon describes Rivers of London as "What would happen if Harry Potter grew up and joined the Fuzz," which so far is accurate, though it doesn't nearly reflect how very funny this book is.
Rivers of London is being released in paperback in the US as Midnight Riot, nearly simultaneously with its sequel Moon Over Soho, both from Del Rey.  Check 'em out.