Future Treasures: Foxglove Summer by Ben Aaronovitch
Future Treasures: Foxglove Summer by Ben Aaronovitch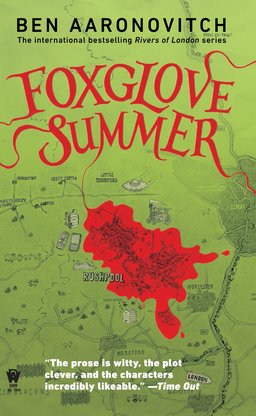 Ben Aaronovitch began his writing career with two Doctor Who serials, Remembrance of the Daleks (broadcast 1988) and Battlefield (1989), which means he's already living the dream life millions of aspiring American fantasy writers. He was a regular writer on the Galaxy Channel's science fiction series Jupiter Moon.
He became a novelist in 1990 with his first Doctor Who book, a novelization of Remembrance of the Daleks. He produced three more (and one featuring the adventures of companion Benny Summerfield), before launching the best selling series Rivers of London in 2011. The fifth volume, Foxglove Summer, will be published in paperback on January 6th.
When two young girls go missing in rural Herefordshire, police constable and wizard-in-training Peter Grant is sent out of London to check that nothing supernatural is involved. It's purely routine — Nightingale, Peter's superior, thinks he'll be done in less than a day.

But Peter's never been one to walk away from someone in trouble, so when nothing overtly magical turns up he volunteers his services to the local police, who need all the help they can get. But because the universe likes a joke as much as the next sadistic megalomaniac, Peter soon comes to realize that dark secrets underlie the picturesque fields and villages of the countryside and there might just be work for Britain's most junior wizard after all.

Soon Peter's in a vicious race against time, in a world where the boundaries between reality and fairy have never been less clear….
I'm a big fan of this series. We covered the first novel, Rivers of London (published as Midnight Riot in the US), which Diana Gabaldon describes as "What would happen if Harry Potter grew up and joined the Fuzz," in March 2011, and the fourth, Broken Homes, back in February. Foxglove Summer will be published by DAW Books on January 6, 2015. It is 326 pages, priced at $7.99 in paperback and $6.99 for the digital edition.