The Public Life of Sherlock Holmes: A Pair of Holmeses Named Alan
The Public Life of Sherlock Holmes: A Pair of Holmeses Named Alan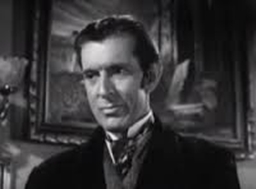 In 1937, Holmes made his first appearance on American television in The National Broadcasting Corps' rendition of The Three Garridebs, starring Louis Hector. Regular television service from NBC hadn't even begun yet when this test show was transmitted and it's likely few people saw it. Sadly, I'm only aware of one picture taken from a television screen, though I believe someone in the industry once told me there are other stills in the archives. There's certainly no belief an actual recording of the broadcast exists!
In 1949, CBS aired a series of 30-minute literary adaptations in the Your Show Time program. The tenth episode was The Speckled Band, starring Alan Napier as Holmes. Napier was certainly a stuffy, stiff detective, with a bit of Raymond Massey (Holmes in a 1931 film of the same story) and Leonard Nimoy in his look.
Melville Cooper doesn't mumble his lines, which is a pleasant surprise. But he constantly leans back and talks down his nose. He's also got cheeks so puffy you wonder if he stuffed them with cotton.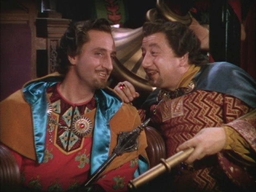 At this point in time, Watson simply couldn't escape the comic relief role. As he and Holmes are sneaking through a window into Stoke Moran, a monkey attacks Watson. Sure, why not? And as they wait in the darkened bedroom for the climactic scene, Watson comments "Never fear Holmes, eternally vigilant" and of course, is asleep in the very next shot. The monkey makes a final appearance in the final scene, perched on Watson's shoulder, leaving Holmes to make a joke and giving the show a quite stupid finish.
He did make one positive contribution to the case. When Helen's boyfriend threatens to bring the police, Watson knocks him unconscious from behind.
It's Elementary – Cooper appeared with famed Holmes Basil Rathbone in Errol Flynn's classic, The Adventures of Robin Hood, playing the high sheriff of Nottingham.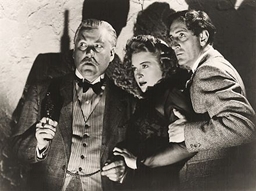 Former Universal star Evelyn Ankers has the female lead as Helen. She played Kitty, the female lead, opposite Rathbone in Sherlock Holmes & The Voice of Terror. The Voice himself, Edgar Barrier, was the infamous Dr. Roylott in this show. She would play the female lead again two years later in Rathbone's The Pearl of Death. There's nothing wrong with her performance here, but it's totally bland and completely unmemorable.
Irishman Arthur Shields is the show's host, The Bookshop Man, and he provides both voice-over narration and short breaks from the story; usually puffing away on a Lucky Strike (the show's sponsor).
There's no way around the fact that this is a rather dull, uninspired filming of The Speckled Band. There's not particularly anything worth of note in Napier's performance as Holmes. But having said that, there's nothing really wrong with it, either. Given the opportunity to play the great detective a few more times, he might have produced a credible Holmes with a solid script.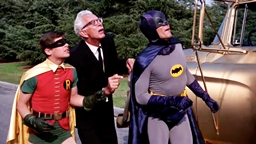 I also wouldn't mind listening to Napier doing Holmes for radio. However, he would not don the deerstalker or the Inverness again. Years later he would achieve a somewhat enduring fame as Alfred the Butler in Adam West's successful Batman television show. Holy Holmes, Batman!
Napier's turn as Holmes is on youtube and is worth a watch.
1951 saw no less than three television adaptations of Sherlock Holmes. Andrew Osburn appeared in For The Children: The Adventure of the Mazarin Stone, while The Man Who Disappeared, John Longden's pilot for a proposed series, failed to generate a buy order. The BBC did air the first television series featuring the great detective, We Present Alan Wheatley as Mr. Sherlock Holmes in… 
Wheatley himself recounted how he obtained the part: "I was doing a lot of television at the time, and I did something, I think it was Rope, and C. A. Lejeune gave me a marvelous notice in The Observer and she finished up by saying, 'If the BBC have got any sense, they will commission a series of Sherlock Holmes stories and ask Mr. Wheatley to play Sherlock Holmes.' So, the BBC, very unlike them, took this up and wrote to her and said, 'All right, if you will do the scripts we will do the series,' and that's how they came to be done."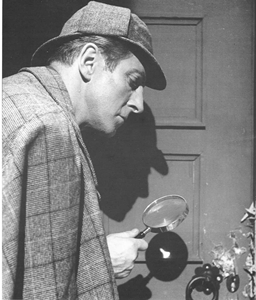 Lejeune provide six scripts: The Empty House, A Scandal in Bohemia, The Dying Detective, The Reigate Squires, The Red Headed League and The Second Stain.
The shows were broadcast live, which certainly left Wheatley no margin for error, and there are no surviving copies of them. Wheatley recounts having to play a scene speaking off camera, while he sat in the corner putting on a heavy disguise for the following scene. The stage manager and assistant stage manager appeared in most episodes; reminiscent of repertory theater.
It's Elementary – Wheatley played the Sheriff of Nottingham in Richard Greene's television series, The Adventures of Robin Hood. Archie Duncan, Inspector Lestrade to Ronald Howard's Holmes, was Little John, while the previously mentioned John Longden was the archbishop. Ronald Howard himself appeared in two episodes as Will Scarlet. Another Holmes tie-in belonged to Ian Hunter, who guested as Sir Richard of the Lea. He played Watson to Arthur Wontner's Holmes in The Sign of Four: Sherlock Holmes' Greatest Case.
Wheatley is not a bad looking Holmes and Raymond Francis was his Watson. The Times praised Wheatley's performance, though the actor's feelings about the project were anything but warm:
 "I have to admit that I absolutely hated the plays. I never enjoyed doing anything less. I wish I didn't feel like that about it, but it remains a very unpleasing memory, because of the dialogue and construction. I never felt right in the part. I didn't want to play it in the first place, because I'm not a Holmes addict. I enjoy the stories, but I'm not an addict by any means…

 I don't think that they would ever have cast me in it if it hadn't been for Lejeune having put it like that, and then when they commissioned her to do it I'd more less got to play it…In the books Holmes has a certain modicum of humor that just saves him, but in these scripts there wasn't a vestige. In my opinion he just seemed to be an insufferable prig…

 I think it also did me a lot of harm. It did have an enormous amount of publicity, which rather went to my agent's head and he started asking very much bigger salaries for me, and it really dished my television career."
So, the first Holmes television series does not survive today and the star hated playing Holmes. It would be over a decade before the series Holmes would come back to television. Fortunately, Douglas Wilmer's turn as the great detective would be a bit more successful and in turn put Peter Cushing back under the deerstalker.
Today's post almost gets us to the two dozen about Holmes on Screen here at Black Gate!  The prior entries:
1900-1920 Holmes' Before Eille Norwood
1914 James Bragington – A Study in Scarlet
1916 William Gillette – Sherlock Holmes
1921-1923 Eille Norwood – Stoll Pictures
1922 John Barrymore – Sherlock Holmes
1931 Raymond Massey – The Speckled Band
1931-1937 Arthur Wontner – Five Films
1933 Reginald Owens – A Study in Scarlet
1954 -1955 Ronald Howard – The Adventures of Sherlock Holmes
1959 Peter Cushing – Hammer's Hound of the Baskervilles
1979 Christopher Plummer – Murder By Decree
1982 Tom Baker – The Hound of the Baskervilles
1983 Ian Richardson – The Hound of the Baskervilles & The Sign of Four
1983 Peter O'Toole – The Animated Novels
1984-1985 Jeremy Brett – The Adventures of Sherlock Holmes (Parts One, Two and Three)
1991-1992 Christopher Lee – The Golden Years
2010-2017 Benedict Cumberbatch – Sherlock (Post One, Post Two and Post Three)
2012 Johnny Lee Miller – Elementary
---
You can read Bob Byrne's 'The Public Life of Sherlock Holmes' column here at Black Gate every Monday morning.
He founded www.SolarPons.com, the only website dedicated to the 'Sherlock Holmes of Praed Street' and blogs about Holmes and other mystery matters at Almost Holmes.
His "The Adventure of the Parson's Son" is included in the largest collection of new Sherlock Holmes stories ever published. Suprisingly, they even let him back in for Volume IV!