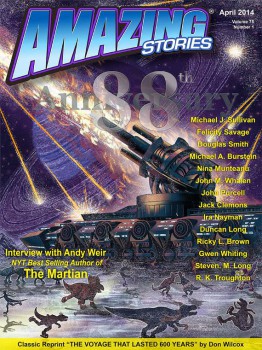 Amazing Stories is one of those legendary magazines of the first fandom age. Launched in 1926 by Hugo Gernsback (ie: the guy the Hugo Awards are named after), it was the first magazine devoted to science fiction stories.
This forerunner status didn't assure it success and the magazine suffered bankruptcy, changes in ownership, editorial style, legal troubles, and so it has had many incarnations.
In recent years, Steve Davidson and a small army have been making efforts to resurrect Amazing Stories as an e-magazine, at first as a magazine focusing on fandom, and now, more consciously approaching the role of a magazine that will be offering new fiction and a new editorial voice. But, as Davidson notes, baby steps is the key.
The 88th Anniversary issue features articles of science fact, articles about fandom, reprinted short fiction, and some new stories as well. It is a visually-powerful magazine, with some great interior and cover art, so it was beautiful to toggle through on my Kindle.
On the content side, I have strong feelings about the sf field and this magazine pulled those feelings in a couple of directions.
I'll admit I floundered a bit trying to discern the editorial taste, until I looked at the first fandom context of Amazing Stories and the aura of nostalgia around the age and history of science fiction as a genre.
---