Pacific Rim and the Culture of Rip-Off Vs. Homage
Pacific Rim and the Culture of Rip-Off Vs. Homage
"This is not a rip-off, it's an homage!"–Peter Swan (Liam Neeson) in The Dead Pool
Watching the special features on Guillermo del Toro's Pacific Rim this past weekend, I was struck by something the director said. Paraphrased, he told the design crew not to take any elements from previously-existing kaiju (such as Godzilla, Gamera and so forth), but to pay tribute to the spirit of those films. In other words, it's a classic homage.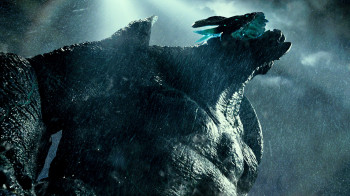 Now, bear with me on this. I'm a fan of Asian cinema, particularly the 80s and 90s classics such as The Bride with White Hair, Jet Li's Once Upon a Time in China series, The Heroic Trio and its amazing sequel Executioners, and so forth.  I'm not obsessive about it — there's a lot I haven't seen — but I know the high points.
So when I see something like Crouching Tiger, Hidden Dragon, or Quentin Tarantino's Kill Bill films, I see exactly what the lnfluences are. Except in this case, they're not homages: they're recreations of some of the exact moments from the films that influenced them, only couched so that you (the general American audience who's never seen them before) will think they're Tarantino's or Ang Lee's original ideas.
That, my friends, is a rip-off.

So what is ultimately the difference?
It's the difference between sampling and actually creating music. It's the difference between a collage made up of pieces of other art, and an original painting. It's the difference between synthesizing your influences into something new versus simply recreating them (and claiming them as your own).
The culture of remakes, reboots, and the ghastly term "reimaginings" does not see this difference, which is why Ronald Moore can claim in his network pitch that with Battlestar Galactica, a remake of a 70s show that retained many of its concepts and designs, he intended to "reinvent the science fiction television series." By all indications, he saw no irony or contradiction in the statement.
Pacific Rim is a joyous love letter to the giant monster movies Del Toro, and many of us, grew up with. It's also, and this is crucial, its own thing, with its own mythology, iconography, and story. That, to me at least, is worth much more than any remake, reboot, reimagining, or rip-off.