Goodbye, Blockbuster
Goodbye, Blockbuster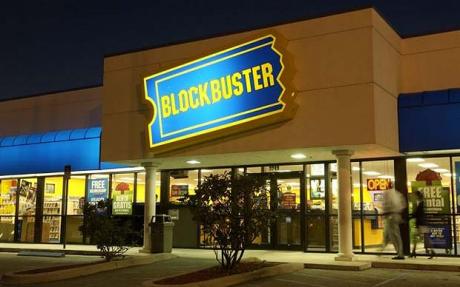 The Chicago Tribune is reporting today that Blockbuster will close all of its remaining brick-and-mortar outlets.
And so we bid a fond goodbye to an earlier, simpler way of life. When Friday nights meant leaving work a few minutes early to get in line at the rental store, before all the new releases were gone and you were stuck with an Andrew Dice Clay picture.
This is just one more thing that will confuse the hell out of me when I'm old and senile and wander away from the home. I'll be standing in the parking lot of Best Buy with five bucks in my hand, trying to rent the first season of Kolchak the Night Stalker. Just you wait.
End of an era, for sure. The last remnants of the Old Republic have been swept away. (But how will Google maintain control without the bureaucracy?)
Blockbuster filed for bankruptcy in September 2010. It was purchased by DISH Network Corp. in a bankruptcy auction for $320 million in 2011, back when they were trying to seriously compete with Netflix. The company says it will close all of its 300 remaining U.S. stores by early January and shut down the Blockbuster By Mail service in mid-December.
DISH Network Corp. did note about 50 U.S. stores run by independent franchises will remain open, but since DISH is closing its distribution centers, it's unclear how they will continue to operate. DISH will keep the Blockbuster brand alive through their streaming and on-demand services.
I remember when Blockbuster arrived here in St. Charles, and gradually put all the independent video stores out of business — just as the arrival of Borders killed all the small bookstores that were plentiful when I moved here in 1997. Borders began liquidation in 2011, leaving my town with virtually no bookstores.
Progress. Science fiction never told me the future would have no bookstores.
Today's announcement will doubtless mean a lot more to those who remember long weekend lines for New Releases at Blockbuster (by which I mean, those of you over 30). Alice and I used to rent old movies and watch them late into the night in the early 90s, cuddled together on the blue couch in my first apartment. Now I'm going to have to ask my kids to explain how they download films onto their tablets.
But as long as I can get Kolchak the Night Stalker episodes, I suppose I'll be content.