Borders Begins Liquidation
Borders Begins Liquidation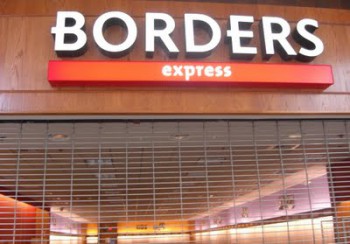 Borders, one of the largest bookstore chains in the United States, has began the process of closing its doors.
Going-out-of-Business sales started today at all Borders, Borders Express, and Waldenbooks locations, with up to 40% off most items. The store has announced that gift cards will be honored during the liquidation, Borders Rewards Plus discounts are good through August 5th, and Borders Bucks will be accepted until July 31.
CEO Mike Edwards sent this e-mail to all Borders Rewards members yesterday, saying in part:
We had worked very hard toward a different outcome. The fact is that Borders has been facing headwinds for quite some time, including a rapidly changing book industry, the eReader revolution, and a turbulent economy. We put up a great fight, but regrettably, in the end, we weren't able to overcome these external forces.

Going out of business sales begin in stores Friday, July 22. I encourage you to take advantage of this one-time opportunity to find exceptional discounts on your favorite books…
When I moved to my current home in St. Charles, IL in 1997, it was a town filled with many bookstores. The arrival of Borders and then Barnes & Noble gradually killed virtually every one of them.
But I consoled myself with the fact that Borders was, in fact, a superb book store. Clean, well organized, and marvelously well stocked, it was a terrific place to browse and find books. And now it is gone, leaving my town with one small bookstore: Town House Books, the sole survivor of the coming of Borders over a decade ago. One town over, there's also a B&N superstore — another marvelous place for book lovers.  Until it too goes bankrupt, as many investors are now predicting.
It is the end of the bookstore?  I hope not, but time will tell.  And until then, I'll be shopping at Town House books.