Alex Bledsoe Writes a Love Letter to Carl Kolchak
Alex Bledsoe Writes a Love Letter to Carl Kolchak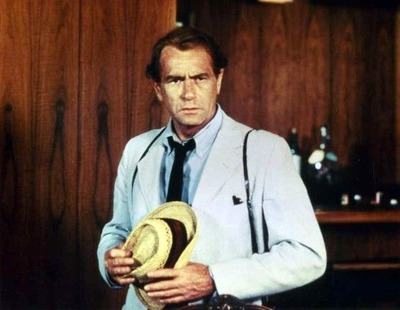 Over at Tor.com, occasional Black Gate blogger Alex Bledsoe has written a Love Letter to Carl Kolchak. As brilliantly portrayed by Darren McGavin in a single season of Kolchak: The Night Stalker (1974-75), Carl Kolchak was one of the greatest supernatural sleuths of all time — and a personal hero of mine when I was 10 years old. (And for much of my 30s and 40s, now that think about it.)
So get your eyes off him, Alex. He's all mine.
I already had vague notions of writing my own stories, but as a lonely geek in small-town Tennessee, being a writer seemed about as likely as getting a date.

But when I saw Kolchak, everything changed. So what if girls ignored me? I could ignore them just like Carl did. What did it matter if there was nothing in my small town to make me look forward to the future? The Truth, long before the X-Files, was out there somewhere, in a big city like Chicago where monsters could lurk with impunity. All I needed were a few pieces of gear, like a portable cassette recorder (these were cutting edge at the time), a 110 camera … and that most glorious of inventions, the typewriter, featured in the show's credits.
Alex Bledsoe is the author of five Eddie LaCrosse novels (including The Sword-Edged Blonde, and the latest, He Drank, and Saw the Spider), Blood Groove, The Girls with Games of Blood, and the Tufa novels, The Hum and the Shiver and Wisp of a Thing. His last article for us was Pacific Rim and the Culture of Rip-Off Vs. Homage.
Read the complete article here.