Choice of the Petal Throne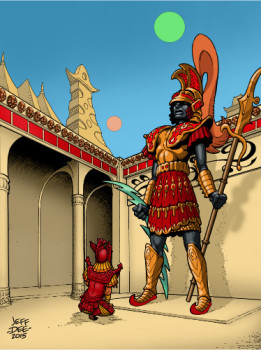 In my opinion, the hobby of roleplaying has only ever produced two fantasy settings to rival Middle-earth in terms of depth and creativity: Greg Stafford's Glorantha and M.A.R. Barker's Tékumel. Of the two, I suspect Glorantha is the better known, at least in the roleplaying world, if only because the RPG with which it was long associated, RuneQuest, was very successful, particularly in Europe (where it was, at various times, more popular than even Dungeons & Dragons if you can believe it).
Tékumel, on the other hand, has languished in semi-obscurity, despite the fact that the RPG in which it first appeared, Empire of the Petal Throne, was published only a year after D&D, making it one of the most venerable of its kind. Part of the reason why that is the case is that, unlike most fantasy settings, Tékumel owes little to the histories or legends of the West's Classical and Middle Ages. Instead, its primary inspirations are ancient Egypt, pre-Columbian Mesoamerica, and Mughal India – all seen through the lens of sword-and-planet writers like Edgar Rice Burroughs and Jack Vance. Consequently, the setting's peoples, flora, fauna, mythologies, and elaborate social systems are quite unlike those to which most roleplayers (especially in North America) are accustomed. Add to that the unfamiliarity of Tékumel's constructed languages – Barker was a professor of linguistics – and you have a recipe for supposed inaccessibility.
I think that's a shame – and not just because I'm personally very fond of Tékumel.
The truth is that Tékumel's "inaccessibility" is (mostly) on the surface. The names (like Mu'ugalávya and Tsatsayágga, to cite two examples) and scripts are intimidating at first, I'll admit, but, with time and effort, they become much less so. The same is true of Tékumel's lengthy imaginary history and its complex religions and societies. Once those initial barriers are overcome, what you'll find is a fantastic setting filled with amazing opportunities for adventure, from treasure-hunting expeditions into subterranean labyrinths to cutthroat imperial politics to visitations to other planes of existence.
Even so, overcoming Tékumel's initial alienness isn't easy, as there is no straightforward way to learn about the setting, which is why I am so very pleased to see the release of Choice of the Petal Throne.