M.A.R. Barker, Nov 3 1929 – March 16, 2012
M.A.R. Barker, Nov 3 1929 – March 16, 2012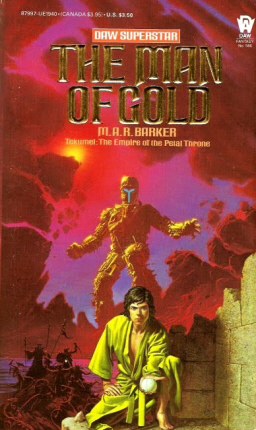 While I was at the games auction at Gary Con on Sunday, Luke Gygax solemnly paid tribute to those industry giants we lost in the last year, including Jim Roslof and Jean Wells, both early and influential TSR employees.
But I was startled when Luke added that M.A.R. Barker, the grand old man of role playing, had died last week at the age of 82.
M.A.R (Muhammad Abd-al-Rahman) Barker is not particularly well remembered today. He wasn't especially prolific as an author, with five novels to his credit — the last three published by obscure small press publishers. But everyone who paid attention to TSR in the heady early days of role playing knew M.A.R. Barker, the creator of Empire of the Petal Throne and the fantasy world of Tékumel.
Barker created Tékumel in the decades from 1940 to 1970. Wholly unique, Tékumel was a science fantasy setting inspired by Indian, Middle Eastern, Egyptian and Meso-American mythology, a world colonized by humans and alien species some 60,000 years in the future. Perhaps most intriguing, Tékumel was largely free of Tolkien's influence as it was well established long before the publication of The Lords of the Rings — the only major RPG setting of the 20th Century that could make that claim.
In the early 1970s Barker met one of the original Dungeons & Dragons playtesters, Mike Mornard, and was introduced to the game. It didn't take long to realize the potential of the D&D ruleset, and he quickly adapted it for his own use and self-published Empire of the Petal Throne in 1974. One of his occasional players was D&D co-creator Dave Arneson, who called Barker his favorite Game Master — and EPT his favorite RPG.
TSR published a revised version of Empire of the Petal Throne in 1975, bringing it to the attention of tens of thousands of young role players eager for anything new. Barker was a professor of Urdu studies, which instantly made him cool (even if we weren't exactly sure where Urdu was).
But with its baroque and dense setting and unfamiliar trappings, EPT largely mystified its early audience, and the game went nowhere. Far more copies were purchased than played, and just about every copy I've ever seen of this rare game is in mint, unplayed condition.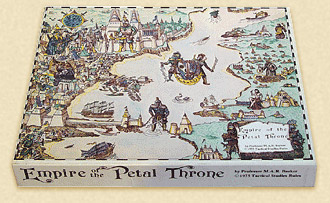 The game — and especially its setting — struck a chord with older, more sophisticated gamers however, and over the decades no less than four major role playing releases used Tékumel as a setting, including a later reprint of Empire of the Petal Throne (Different Worlds Publications, 1987), Swords & Glory (Gamescience, 1983/84), Gardasiyal: Adventures in Tekumel (Theater of the Mind Enterprises, 1994), and Tekumel: Empire of the Petal Throne (Guardians of Order, 2005). All of them are interesting, but Gardasiyal and its supplements — including a lavish collection of sophisticated solitaire adventures — are excellent, and highly prized collectibles today.
Barker's first two novels, Man of Gold (1984) and Flamesong (1985), were published in paperback by DAW, and are still read and collected today. By the mere act of disassociating RPGs from the worlds of Tolkien and the sword-and-sorcery legacy of Robert E. Howard, Barker demonstrated the rich potential of role playing to an entire generation of gamers. He was an enormously creative man, and he will be missed.