He Sought Adventure
He Sought Adventure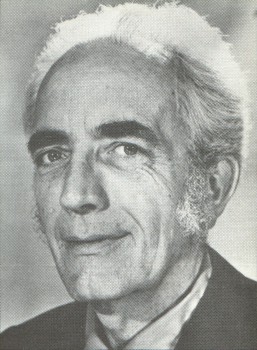 Over the past six years, I've spent a great deal of time exploring the literary antecedents of Dungeons & Dragons (and, by extension, many other early roleplaying games). It's been a (mostly) fun journey, not least of which because it gave me the opportunity to re-acquaint myself with writers and stories I hadn't read for years and that exercised powerful influence over my youthful imagination. Sometimes, it's also afforded me the opportunity to take a look at authors to whom I didn't pay much attention in the past, but who were important figures in fantasy and science fiction in their own right and not simply because of their contributions to the goulash of ideas and concepts Gygax and Arneson drew upon in creating those little brown books that changed the world.
One of the fruits of the last six years is my growing sense that, if I were to pick a single author whose stories, characters, ideas, and – above all – ethos summed up D&D for me (and perhaps for Gygax as well, though I wouldn't dare claim to speak on his behalf), it would not be Robert E. Howard or Michael Moorcock or Poul Anderson, or even J.R.R. Tolkien, all of whose fingerprints can clearly be found on the pages of the game. No, it would be Fritz Reuter Leiber, Jr., born 104 years ago tomorrow (December 24).
I'm not ashamed to admit that, for the most part, I encountered most of the literary progenitors of Dungeons & Dragons only after I'd started playing the game. I was already familiar with certain works of fantasy, all of which played a role in preparing me for the hobby of roleplaying. However, writers like Howard, Lovecraft, and even Tolkien weren't ones I came across "in the wild," so to speak. Rather, they were all recommended to me by the older guys who haunted the hobby shops and game stores my friends and I visited regularly. They kept saying, "If you like D&D, you've got to read this!" And so we did, because we were simply ravenous for more fantasy goodness.
Fritz Leiber was different. I'd, of course, seen his name, both in Gygax's Appendix N and in the very text of the hallowed J. Eric Holmes-edited D&D rulebook, but – strangely, in retrospect – I can't recall anyone's ever recommending him to me the way they had with other seminal fantasy authors. Instead, I had to find him for myself.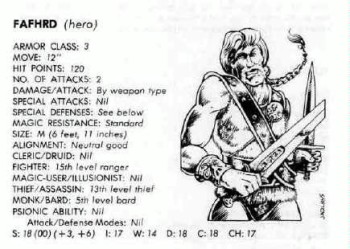 What I am mildly ashamed about is what finally prompted me to go seek out Leiber: the 1981 Deities & Demigods cyclopedia for Advanced Dungeons & Dragons, which devoted an entire chapter to what it termed the "Nehwon Mythos." There was an indefinable something about the entries in this chapter that I found incredibly compelling. Most of the information presented therein was brief but, oh, was it suggestive! There was mention of the Slayers' Brotherhood, alien wizards, bizarre "ghouls" unlike any I'd ever seen, and the god Death, who is himself one day fated to die. There was also mention of the thieves' guild of Lankhmar, the first time I think I ever saw such a concept outside of D&D, which made my younger self wonder if perhaps it was from this Leiber fellow that Gygax had gotten the notion in the first place. I rushed to the library to grab everything by the man I could find.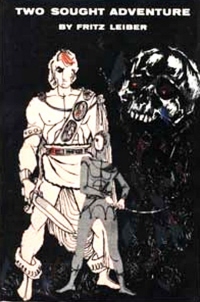 Again, for whatever reason – perhaps having run afoul of the Gods of Trouble – I initially couldn't find many books by Leiber, or even anthologies containing his stuff at the nearest library to my home. So, I began an epic quest to seek out other libraries, which ultimately led me to downtown Baltimore and the Central Library of the Enoch Pratt Free Library system on Cathedral Street, right across from the old Baltimore Basilica. This was the same library where I'd successfully found books by and about H.P. Lovecraft that I couldn't locate elsewhere, so my spirits were high.
My expedition proved fruitful and I walked away with several books by Leiber, one of which was an old copy of Two Sought Adventure, originally published in 1957. Reading through its stories, I was hooked almost immediately. The duo of Fafhrd and the Gray Mouser felt exactly like I wanted D&D adventurers to be: seeking excitement as much as gold or glory. More importantly, their exploits were intensely personal. They weren't interested in saving the world from the latest model of Dark Lord seeking dominion over it. So long as their purses were full and they had a pretty girl on their arms, they were content – for now.
It was that lust for excitement that I think I found most attractive about Leiber's protagonists. It was, for me, the perfect antidote to the overwrought melodrama of the post-Terry Brooks era of fantasy fiction, where every tale had to be one of momentous import rather than a raucous escapade. By the time I started playing Dungeons & Dragons, at the tail end of the 1970s, the glory days of pulp fantasy were long gone. Instead of short stories, we got not merely novels, but thick novels and not merely thick novels but thick novels in a trilogy. This tendency continued throughout the '80s, as trilogies gave way to "tetralogies" or, worse yet, never-ending "series" made up of doorstop-sized novels. I loved The Lord of the Rings as much as the next nerd, but I didn't want every work of fantasy to be a knock-off of Tolkien's masterwork. Fritz Leiber, even moreso than Robert E. Howard, showed me an alternative approach, one that I still regard as my preferred form of fantasy fiction.
Happy Birthday, Mr Leiber. You are greatly missed.