New Treasures: Shovel Ready by Adam Sternbergh
New Treasures: Shovel Ready by Adam Sternbergh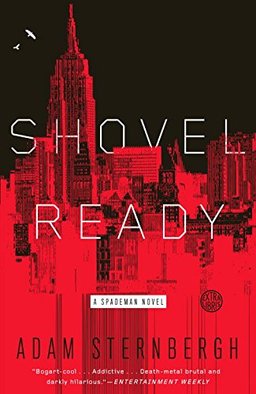 I've had my eye on Adam Sternbergh's debut novel since it came out in hardcover in January. A thriller about a garbageman-turned-hitman in near-future dystopian New York City, Shovel Ready reminds me of Daniel Polansky's Low Town and Jonathan Lethem's hardboiled debut fantasy Gun, With Occasional Music… all three are original and daring. Now it's finally out in trade paperback, just in time for Christmas vacation. If I can find a few hours uninterupted on the couch, I may just get the chance to read it.
Spademan used to be a garbage man. That was before the dirty bomb hit Times Square, before his wife was killed, and before the city became a blown-out shell of its former self.

Now he's a hitman.

In a near-future New York City split between those who are wealthy enough to "tap in" to a sophisticated virtual reality, and those who are left to fend for themselves in the ravaged streets, Spademan chose the streets. When his latest client hires him to kill the daughter of a powerful evangelist, he must navigate between these two worlds — the wasteland reality and the slick fantasy — to finish his job, clear his conscience, and make sure he's not the one who winds up in the ground.
Adam Sternbergh was the editor-at-large at New York Magazine and is currently the culture editor for The New York Times Magazine.
Shovel Ready was published in hardcover by Crown on January 14, 2014 and in trade paperback by Broadway Books on October 14, 2014. It is 272 pages, priced at $14 for the paperback.