Marvel Casts Luke Cage
Marvel Casts Luke Cage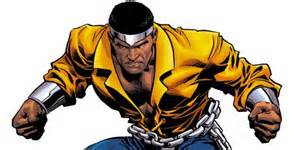 I've been following the news surrounding Marvel Entertainment's upcoming Netflix shows with a great deal of interest. Originally announced last November, the plan is for Netflix to launch four live-action dramas focused on Marvel's street-level heroes, leading to "a mini-series programming event" that will rival the blockbuster Avengers. Quoting from the press release:
Led by a series focused on Daredevil, followed by Jessica Jones, Iron Fist and Luke Cage, the epic will unfold over multiple years of original programming, taking Netflix members deep into the gritty world of heroes and villains of Hell's Kitchen, New York. Netflix has committed to a minimum of four, thirteen episodes series and a culminating Marvel's The Defenders mini-series event that reimagines a dream team of self-sacrificing, heroic characters.
Like many Marvel fans, I've been very intrigued by the possibilities of a gritty, realistic TV series focused on some of the most popular characters in the Marvel canon. A big reason for all the excitement is the collaboration of Marvel and Netflix; the latter has a stellar rep based on the ground-breaking House of Cards, starring Kevin Spacey. Daredevil is already underway, with episodes set to premiere in May 2015. It will be followed by Jessica Jones, which stars Krysten Ritter (Veronica Mars, Breaking Bad) as a retired superhero with post-traumatic stress disorder working as a private detective in New York. Jones was created by Brian Michael Bendis and Michael Gaydos for the excellent (and underrated) comic Alias (2001-2004), the flagship title in Marvel's adult MAX imprint.
A recurring character in Alias was Jones's boyfriend — none other than Luke Cage, one of the most famous superheroes of the 70s and 80s. Cage first appeared in Marvel's Hero For Hire #1 in June 1972, and it's believed he'll guest-star first in Jessica Jones before spinning off into his own series. Yesterday Marvel announced that Cage would be played by Mike Colter, who's currently playing a drug kingpin on The Good Wife.
There's been lots for superhero fans to talk about in the last few weeks. Our latest Marvel news was the announcement that Benedict Cumberbatch was confirmed to play Doctor Strange.