The Doom That Came to Lovecraft
The Doom That Came to Lovecraft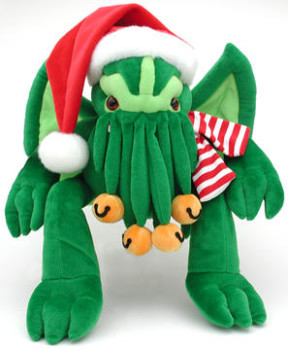 I turned 45 right before Halloween and once again I feel the cold claws of senescence tighten their grip around my throat. I used to pride myself on my memory, which, while not truly "photographic" – assuming such a thing even exists – was always extremely keen. Note that that I said "was." Lately, I'm finding it harder and harder to keep the details of my wasted youth straight in my mind.
A good case in point concerns when I first encountered the writings of H.P. Lovecraft. I know for certain that it was after I first started playing Dungeons & Dragons, but before Chaosium released its Lovecraft-inspired RPG, Call of Cthulhu. That suggests, then, the likeliest date is sometime in 1980, since, by then, I'd not only have acquired a copy of Gary Gygax's masterwork, the Dungeon Masters Guide, whose Appendix N cited HPL as one of "the most immediate influences upon AD&D," but had also made the acquaintance of older players who frequently extolled the virtues of pulp literature to my friends and I.
What I do remember is that, at the time, the very name "Lovecraft" sounded fantastical to me. I almost couldn't accept that it was a real name, since I'd never heard of anyone with such a moniker before. This probably contributed greatly to the reverence in which I'd later hold his writings, a reverence that has only increased as I've grown older and had occasion to read and re-read his stories countless times.
What I also remember was that, not long after learning about the Gentleman from Providence, I rushed to my local library to find copies of his "books," not yet realizing that most of his output consisted of short stories. What I found were battered copies of some of the Ballantine Adult Fantasy collections, along with the Scholastic Book Services edition of The Shadow over Innsmouth and Other Stories of Horror. The latter had a lasting effect on my imagination, thanks to its creepily comical depiction of a spectral inhabitant of the titular New England town. From then on, Lovecraft's creations struck a powerful chord with me and, as I later learned, with so many of my fellow gamers. They were the epitome of horror.
How times have changed.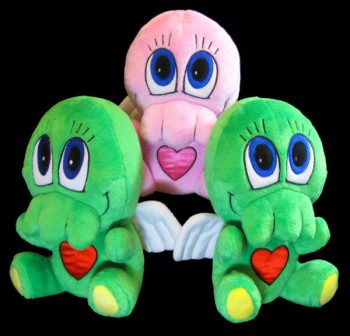 That I am a joyless stick in the mud is a well-established fact, as anyone who knows me can attest. This is particularly true these days when it comes to the way that Lovecraft's brain children, most especially, Great Cthulhu, have been turned into toothless geek totems. It's next to impossible nowadays to visit any shop or online site that caters to gamers and related nerds without encountering blasphemous malignancies like those that accompany this post. These are eldritch abominations the likes of which Ech-Pi-El, even in his worst nightmares, could never have imagined!
Of course, I'm only semi-serious in recoiling at nonsense like this. On the one hand, as too many of my friends and colleagues rightly say, it's just a little bit of fun. Where's the harm in that? Isn't it wonderful, after all, that Lovecraft has made it. He – or at least Cthulhu – is now mainstream enough that you can find T-shirts and action figures and even short films starring professional wrestlers that feature the master of R'lyeh. What's not to love?
Unlike me, Lovecraft had a highly developed sense of humor. He frequently engaged in clever jests with his many friends and correspondents, a good example of which is "The Battle That Ended the Century," in which he pokes fun at members of his circle, including himself. He also genuinely enjoyed it when others pilfered ideas from him and ran with them in new directions, feeling that their doing so lent verisimilitude and heft to the "anti-mythology" he was weaving through his tales of Yog-Sothothery. What would he have thought of Hello Cthulhu? Would it have frustrated him as much as it does me or would he have seen it simply as evidence of the affection others still have for his creation?
Obviously, there's no way to answer a question like this with any certainty. Even if there were, a creator's work often takes on a life of its own and, on some level, it doesn't really matter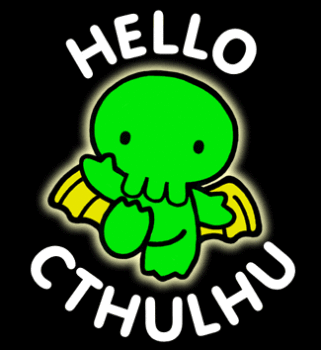 what the originator thinks. All I can say is that I am not fond of this development, as I feel that it lessens the impact of Lovecraft's original conceptions, rendering them less horrific and frightening. Now, some might counter – and indeed have countered – that the cute-ification of Cthulhu is the result rather than the cause of Cthulhu's no longer being scary. In my experience, this claim is often accompanied by the suggestion that the horror inherent in Lovecraft's conception of an uncaring, alien universe is long gone, because most people nowadays accept that conception simply as fact and can thus no longer be horrified by it as Lovecraft's readers in the first half of the last century would likely have been.
Perhaps. More likely, I think, is that most of us are simply unable (or unwilling) to come to grips with the nihilism that Cthulhu, Nylarthotep, and all the rest represent in Lovecraft's writings.  It's so much easier to say "That's not scary anymore" and go about decorating our desks with octopoid tchotchkes without giving any real consideration to what HPL was trying to convey through his creations.
In that respect, Cthulhu and his fellow Great Old Ones are a lot like vampires, another monster that was once a harbinger of soul-destroying terror and that has been reduced through its popularization to a joke. Dracula is filled with religious imagery and allusions; it is a book that derives much of its power from the reader's ability to simultaneously fear the loss of one's immortal soul and to recognize the temptation of physical persistence beyond one's allotted years. Nowadays, Dracula (and vampires generally) is seen purely as sexy avatars of eternal youth without any of the theological "baggage" that made them so compelling – and dangerous – in the first place.
So it is with Cthulhu too, I fear.