Forgotten Father
Forgotten Father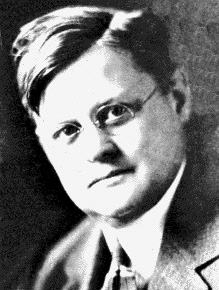 The tastes of one generation are not necessarily those of another and literature is no more exempt from the alienating power of time than any other form of art. Realizing this doesn't make it any less surprising when one encounters an artist wildly popular in his own day but largely unknown in the present. Such an artist was Abraham Grace Merritt, who was born today in 1884.
A journalist, editor, and writer, Merritt's short stories and novels were highly regarded before the Second World War. Among his most ardent admirers was H.P. Lovecraft, who, in a letter to R.H. Barlow wrote of his having met the man in person:
I was extremely glad to meet Merritt in person, for I have admired his work for 15 years. He has certain defects — caused by catering to a popular audience — but for all that he is the most poignant and distinctive fantaisiste now contributing to the pulps. As I mentioned some time ago — when you lent me the [Dwellers in the] Mirage installment — he has a peculiar power of working up an atmosphere and investing a region with an aura of unholy dread.
HPL would later, along with Robert E. Howard – whose own birthday later this week is certainly deserving of commemoration – collaborate with Merritt on a round-robin story called "The Challenge from Beyond." It's not a particularly noteworthy piece, for any of the writers involved, but it's evidence that, once upon a time, Merritt was at least as highly esteemed as Lovecraft and Howard, two writers whose literary stars have risen since their lifetimes, in contrast to their older colleague.
Today, almost no one, including aficionados of fantasy and science fiction – genres he helped to develop – talks much about Merritt. I knew his name, of course, since Gary Gygax included him in Appendix N of the AD&D Dungeon Masters Guide and often noted that he was one of his favorite fantasy authors. Despite having gained this knowledge in my youth, I hadn't read much by Merritt until comparatively recently. Part of it is that his stories are frequently out of print. At least some of them are in the public domain, but, being a stodgy old traditionalist, I like books, meaning that, if I can't find a physical volume of an author's works, I don't read them. Many older authors, such as H. Rider Haggard, to cite but one example, are readily available in inexpensive paperbacks, making them much easier to obtain by those uninterested in trolling used book stores for the literary works of yesteryear.
Even so, I don't think that fully explains why Merritt is so poorly known and appreciated in the 21st century. The real answer, I think, lies in the fact that, like Clark Ashton Smith, Merritt's stories don't fall into neat, easily marketable categories. Whereas Lovecraft can be crudely called a "horror" writer and Howard a "fantasy" one, Merritt is both, neither, and more. More often than not, his stories feature recognizably "pulp" heroes – men of action and intelligence equally adept at problem-solving and fisticuffs – but Merritt's style is ornate, even florid, marshaling a veritable army of adjectives, adverbs, and archaisms to describe scenes of remarkable power. Here's just one example from his 1919 novel, The Moon Pool, which was one of Gary Gygax's favorites:
A vision of the Shining One swirling into our world, a monstrous, glorious flaming pillar of incarnate, eternal Evil – of people passing through its radiant embrace into that hideous, unearthly life-in-death which I had seen enfold the sacrifices – of armies trembling into dancing atoms of diamond dust beneath the green ray's rhythmic death  – of cities rushing out into space upon the wings of that other demoniac force which Olaf had watched at work – of a haunted world through which the assassins of the Dweller's court stole invisible, carrying with them every passion of hell – of the rallying to the Thing of every sinister soul and of the weak and the unbalanced, mystics and carnivores of humanity alike; for well I knew that, once loosed, not any nation could hold the devil-god for long and that swiftly its blight would spread!
It's not hard to see why Lovecraft was so enamored of Merritt's prose – or why he accused him of "catering to a popular audience." Merritt's style is adjective-laden and melodramatic, employing many standard pulp fiction tricks to craft prose that's nevertheless uniquely his own. It's little wonder, then, that Lovecraft spoke so highly of him. Merritt takes the time to describe the environment in which his fantastic tales of lost races and eldritch horrors occur and it's this tendency that truly set his stories apart from those of his contemporaries and successors. More so than most pulp writers, Merritt truly transports his readers into another world, using his prose to act as their eyes and ears.
I've still not read the entirety of Merritt's corpus and it may be some time before I do, but it's a project to which I am committed. Merritt's unusual style might not be for everyone. However, his ideas are without peer, which explains his great popularity in the years before World War II. I'm increasingly of the opinion that his stories could find an audience today, if they were more readily available. I think he's no less accessible than Lovecraft and, given that his protagonists aren't bookish, mentally fragile antiquarians, they're probably more in line with popular tastes than those of the Old Gent. More than anything, what Merritt needs are some champions who'll do for him what others have done for Lovecraft and Howard: remind the current generation what past generations saw in these great artists.