New Treasures: The Year's Best Science Fiction & Fantasy 2014, edited by Rich Horton
New Treasures: The Year's Best Science Fiction & Fantasy 2014, edited by Rich Horton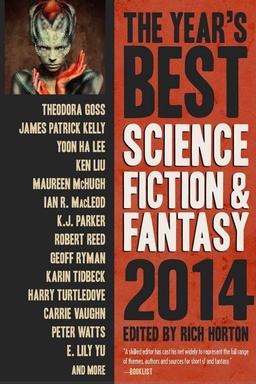 It's been so busy around here for the past few months that I haven't had time to read my favorite Year's Best book — Rich Horton's The Year's Best Science Fiction & Fantasy 2014.
This is the sixth volume and it collects a whopping 35 stories, including C. S. E. Cooney's "Martyr's Gem" (originally published in Giganotosaurus) and fiction from Alex Dally MacFarlane, Howard Waldrop, James Patrick Kelly, Ken Liu, Robert Reed, Lavie Tidhar, Carrie Vaughn, and many others. Rich has collected stories from a wide range of top-notch publications, including Asimov's, Clarkesworld, F&SF, Lightspeed, and Beneath Ceaseless Skies, and anthologies like Fearsome Journeys and Old Mars.
Here's the complete table of contents.
"Social Services" by Madeline Ash (An Aura of Familiarity)
"Out in the Dark" by Linda Nagata (Analog)
"The End of the World as We Know It, and We Feel Fine" by Harry Turtledove (Analog)
"The Oracle" by Lavie Tidhar (Analog)
"Call Girl" by Tang Fei (Apex)
"Ilse, Who Saw Clearly" by E. Lily Yu (Apex)
"They Shall Salt the Earth With Seeds of Glass" by Alaya Dawn Johnson (Asimov's)
"The Wildfires of Antarctica" by Alan De Niro (Asimov's)
"The Discovered Country" by Ian R. MacLeod (Asimov's)
"A Stranger from a Foreign Ship" by Tom Purdom (Asimov's)
"On the Origin of Song" by Naim Kabir (Beneath Ceaseless Skies)
"Effigy Nights" by Yoon Ha Lee (Clarkesworld)
"Soulcatcher" by James Patrick Kelly (Clarkesworld)
"Found" by Alex Dally MacFarlane (Clarkesworld)
"The Bees Her Heart, the Hive Her Belly" by Benjanun Sriduangkaew (Clockwork Phoenix 4)
"Loss, With Chalk Diagrams" by E. Lily Yu (Eclipse Online)
"A Brief History of the Trans-Pacific Tunnel" by Ken Liu (F&SF)
"Kormak the Lucky" by Eleanor Arnason (F&SF)
"Grizzled Veterans of Many and Much" by Robert Reed (F&SF)
"Rosary and Goldenstar" by Geoff Ryman (F&SF)
"The Dragons of Merebarton" by K.J. Parker (Fearsome Journeys)
"Martyr's Gem" by C. S. E. Cooney (Giganotosaurus)
"Such & Such Said to So & So" by Maria Dahvana Headley (Glitter & Mayhem)
"Killing Curses, a Caught-Heart Quest" by Krista Hoeppner Leahy (Lady Churchill's Rosebud Wristlet)
"A Fine Show on the Abyssal Plain" by Karin Tidbeck (Lightspeed)
"Paranormal Romance" by Christopher Barzak (Lightspeed)
"The Dead Sea-Bottom Scrolls" by Howard Waldrop (Old Mars)
"Blanchefleur" by Theodora Goss (Once Upon a Time)
"The Memory Book" by Maureen McHugh (Queen Victoria's Book of Spells)
"Live Arcade" by Erik Amundsen (Strange Horizons)
"Town's End" by Yukimi Ogawa (Strange Horizons)
"A Window or a Small Box" by Jedediah Berry (Tor.com)
"Trafalgar and Josefina" by Angelica Gorodischer (Trafalgar)
"Firebrand" by Peter Watts (Twelve Tomorrows)
"Game of Chance" by Carrie Vaughn (Unfettered)
The Year's Best Science Fiction & Fantasy 2014 was published by Prime Books on June 3, 2014. It is 660 pages, priced at $19.95 in trade paperback and $7.99 for the digital edition.
We covered the 2013 edition here.
See all our recent New Treasures here, and Rich's recent Retro-Reviews and other articles for Black Gate here.