C.S.E. Cooney's "Martyr's Gem" Acquired for Rich Horton's The Year's Best Science Fiction & Fantasy 2014
C.S.E. Cooney's "Martyr's Gem" Acquired for Rich Horton's The Year's Best Science Fiction & Fantasy 2014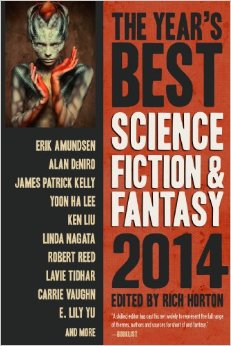 We were very pleased and proud to hear reports this morning that editor Rich Horton has acquired C.S.E. Cooney's novella "Martyr's Gem" for his annual collection, The Year's Best Science Fiction & Fantasy 2014.
Yay!! Drinks are on us!1
"Martyr's Gem" was originally published in Ann Leckie's online magazine GigaNotoSaurus in May of last year. Giganotosaurus publishes one longish fantasy or science fiction story every month, including the Nebula nominees "All the Flavors" by Ken Liu, and "The Migratory Pattern of Dancers" by Katherine Sparrow. If you can't wait for the book, you can read the complete "Martyr's Gem" here.
There's a marvelous animated excerpt narrated by Ms. Cooney, "The Epic of Shursta Sharkbait," here. Sara Norja at Such Wanderings pretty much summed up our feelings when she said:
It's a gorgeously written story with characters that jumped off the screen and will linger in my mind for a good while, I suspect. The island culture she's created is fascinating and vibrant. Sharks and gemstones! Bantering, loving sibling relationships! A society where men and women are pretty equal! An interesting oral storytelling culture and stories-within-stories! I love pretty much everything about this novella. Go forth and be immersed!
It's fairly unusual for a 19,000-word novella to make it into a Year's Best volume, so this is something to celebrate. Rich Horton's volumes are our favorite Year's Best anthologies out there; the 2014 edition is due in May. We covered the 2013 edition here.
We published C.S.E. Cooney's novella "Godmother Lizard," which Tangent Online called "a delightful fantasy… [it] entranced me from the beginning," and the sequel "Life on the Sun" — which Tangent called "bold and powerful… this one captured a piece of my soul. Brilliant."
---
1. Must be of legal drinking age. Must realize we're joking. Offer not valid outside the continental U.S.A. Or anywhere that serves alcohol.