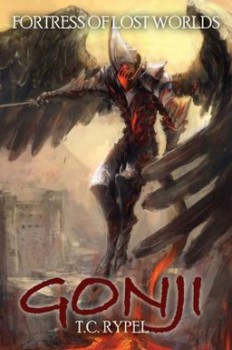 Back in January, I reviewed the first three books of T. C. Rypel's Gonji series. Though thirty-odd years old, the books are exemplars of what heroic fantasy should be: exciting, wildly inventive, well-written, and — above all — starring a heroic protagonist. Exiled half-caste samurai Gonji Sabatake, try as he might, is unable to avoid fighting evil or behaving courageously. This stuff is why I still read S&S.
While the first three books (actually, one big book chopped into three parts by the original publisher, Zebra) are a complete story, they are also the introduction to a much wider and wilder tale. Gonji's adventures start anew in Fortress of Lost Worlds (1985), republished this past May by Wildside Press. The fifth book, A Hungering of Wolves, should be rereleased pretty soon by Wildside as well.
At the end of the previous book, Deathwind of Vedun, Gonji left his surviving companions in order to pursue the werewolf, Simon Sardonis. He had been told years before by a Shinto priest that his destiny lay with something or someone called the Deathwind, which he discovered to be Simon. But driven by his own fears and burdens, Simon wants little to do with the Easterner and cares even less for their supposed entwined fate, so he keeps moving to prevent Gonji from finding him.
Fortress of Lost Worlds' main story picks up two years into Gonji's trek to find Simon. He and his party of soldiers have been savaged and chased to the feet of the Pyrenees by an unknown band he calls the Dark Company. As his last companion is lost in the frigid night, the samurai makes his escape into caverns in the mountainside. While the caves possess magical properties that both warm the nearly frozen warrior and his horse and fill their bellies, they turn out also to have occupants: ogres.
That sets the stage for Gonji's monster-filled journey from the mountains to the town of Barbaso. He'd been warned that evil was loose in the valley, but having decided to travel to Toledo to settle an old debt, the straightest route lay through the valley, and Barbaso.
---