The Top 20 Black Gate Fiction Posts in June
The Top 20 Black Gate Fiction Posts in June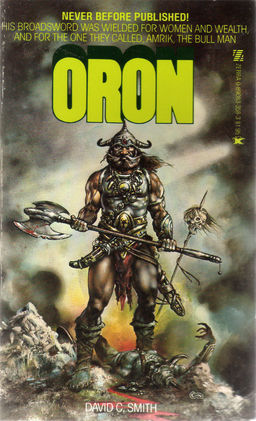 The most popular piece of fiction on the Black Gate blog last month was David C. Smith's "The Shadow of Dia-Sust," the first new Oron story in 30 years, taken from his brand new short story collection The Man Who Would Be King and Other Stories.
Second on the list was our excerpt from The Sacred Band, the new novel in the popular Sacred Band of Stepsons series by Janet Morris and Chris Morris.
Third was perennial favorite "The Moonstones of Sor Lunarum," by Joe Bonadonna, published here nearly three years ago in December 2011 — and in the Top 10 virtually every month since.
Next was Aaron Bradford Starr's epic novella "The Sealord's Successor," the third adventure fantasy featuring Gallery Hunters Gloren Avericci and Yr Neh, the most popular adventuring duo we've ever published.
Rounding out the Top Five was "The Find," Part II of The Tales of Gemen, by Mark Rigney.
Also making the list were exciting stories by C.S.E. Cooney, E.E. Knight, Dave Gross, Michael Shea, John C. Hocking, Steven H Silver, John R. Fultz, Harry Connolly, Gregory Bierly, Jon Sprunk, David Evan Harris, Judith Berman, Peter Cakebread, and Ryan Harvey.
If you haven't sampled the free adventure fantasy stories offered through our Black Gate Online Fiction line, you're missing out. Here are the Top Twenty most-read stories in June.
The complete catalog of Black Gate Online Fiction, including a complete novel by Martha Wells and new stories by Howard Andrew Jones, Peadar Ó Guilín, Nina Kiriki Hoffman, Vera Nazarian, Vaughn Heppner, Mike Allen, Jason E. Thummel, and many others, is here.
The top fiction from May is here.