Black Gate Online Fiction: Blood and Iron by Jon Sprunk
Black Gate Online Fiction: Blood and Iron by Jon Sprunk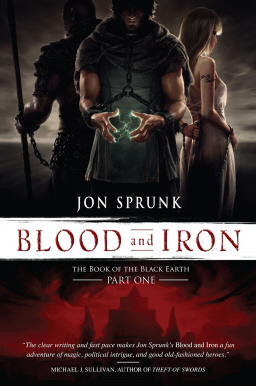 Black Gate is very pleased to offer our readers an exclusive excerpt from Blood and Iron by Jon Sprunk — a new novel of heroic fantasy that reads like a sword-and-sorcery version of Spartacus.
It starts with a shipwreck following a magical storm at sea. Horace, a soldier from the west, had joined the Great Crusade against the heathens of Akeshia after the deaths of his wife and son from plague. When he washes ashore, he finds himself at the mercy of the very people he was sent to kill, who speak a language and have a culture and customs he doesn't even begin to understand.

Not long after, Horace is pressed into service as a house slave. But this doesn't last. The Akeshians discover that Horace was a latent sorcerer, and he is catapulted from the chains of a slave to the halls of power in the queen's court. Together with Jirom, an ex-mercenary and gladiator, and Alyra, a spy in the court, he will seek a path to free himself and the empire's caste of slaves from a system where every man and woman must pay the price of blood or iron. Before the end, Horace will have paid dearly in both.
Jon Sprunk is the author of the Shadow Saga (Shadow's Son, Shadow's Lure, and Shadow's Master) and a mentor at the Seton Hill University fiction writing program. He is a regular blogger for Black Gate.
Win one of two Advance Reading Copies of Blood and Iron! Just send an e-mail to john@blackgate.com with the subject "Blood and Iron," and we'll enter you in the drawing. Entries must be received by Friday, February 28, 2014. No purchase necessary. Terms and conditions subject to change. Not valid where prohibited by law.
The complete catalog of Black Gate Online Fiction, including stories by Tara Cardinal and Alex Bledsoe, E.E. Knight, Vaughn Heppner,  Howard Andrew Jones, David Evan Harris, John C. Hocking, Michael Shea, Aaron Bradford Starr, Martha Wells, Nina Kiriki Hoffman, C.S.E. Cooney, and many others, is here.
Blood and Iron, Book One of The Book of the Black Earth, will be published by Pyr Books on March 11, 2014. It is 445 pages and will be available in trade paperback for $18.00 ($11.00 for the digital version). Learn more at Pyr Books.
Read a complete sample chapter of Blood and Iron here.