Black Gate Online Fiction: The Sacred Band by Janet Morris and Chris Morris
Black Gate Online Fiction: The Sacred Band by Janet Morris and Chris Morris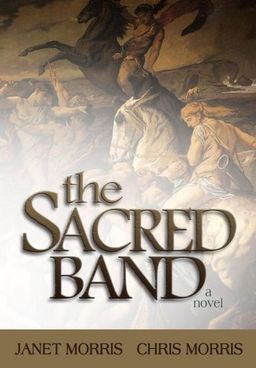 Black Gate is very pleased to offer an exclusive excerpt from The Sacred Band, a new novel in the Sacred Band of Stepsons series by Janet Morris and Chris Morris.
The Sacred Band of Thebes lives on, a world away, in this mythic novel of love in war in ancient times. In 338 BCE, during the Battle of Chaeronea that results in the massacre of the Sacred Band of Thebes, the legendary Tempus and his Stepson cavalry rescue twenty-three pairs of Theban Sacred Banders, paired lovers and friends, to fight on other days. These forty-six Thebans, whose bones will never lie in the mass grave that holds their two hundred and fifty-four brothers, join with the immortalized Tempus and his Sacred Band of Stepsons, consummate ancient cavalry fighters, to make new lives in a faraway land and fight the battle of their dreams where gods walk the earth, ghosts take the field, and the angry Fates demand their due.
Janet Morris alone and Janet Morris and Chris Morris jointly have authored six previous novels and two novelized anthology volumes in their Sacred Band of Stepsons series. Some works in this series were previously published in somewhat different form in the Thieves World® shared universe, or as authorized works taking place beyond Sanctuary®.
The Sacred Band was published in trade paperback and an electronic edition by Paradise Publishing in 2010; the first Kerlak hardcover edition appeared in 2011 and the first trade and electronic editions from Perseid Press in 2012. It is 618 pages, priced at $24.95 in trade paperback.
The complete catalog of Black Gate Online Fiction, including stories by John C. Hocking, Michael Shea, Ryan Harvey, Peadar Ó Guilín, Vaughn Heppner, Aaron Bradford Starr, Martha Wells, Nina Kiriki Hoffman, E.E. Knight, C.S.E. Cooney, Howard Andrew Jones, and many others, is here.
Read "Shock Troops of the Gods," a complete chapter from The Sacred Band, here.