Lawrence Santoro (1942-2014)
Lawrence Santoro (1942-2014)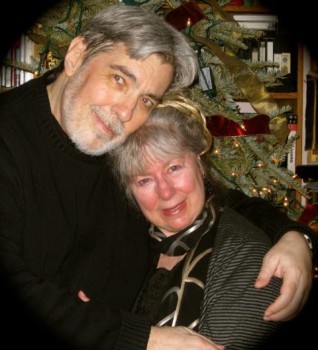 Lawrence Santoro passed away this past Friday. He was a two-time Bram Stoker nominee: once for his novella, "God Screamed and Screamed, Then I Ate Him," in 2001; again for his audio play adaptation of Gene Wolfe's "The Tree Is My Hat" in 2008. Two collections of his short fiction, Just North of Nowhere and Drink for the Thirst to Come, provide a great overview of his fantastic work. For the last two years, he's hosted the horror fiction podcast series, Tales to Terrify.
Those are the highlights, the reasons why a casual reader of Black Gate might recognize Larry's name. But I've been living and writing in Chicago for the last ten years and so I knew him for other reasons. Larry often read at local open mic events and was a fixture at some of them. Larry had a background in theater and he brought all his skill and that amazing voice to every performance. No microphones were ever needed when it was his turn to read and his larger-than-life performances were perfectly suited to the nightmarish tall tales; imagine if Lake Woebegone had a dark side and you'd get an idea of his fictional town of Bluffton. Tony C. Smith at Tales to Terrify provides a nice tribute to Larry, including a previously-unreleased performance by him.
There's a brief overview of the amazing life Larry led before he ever wrote so much as a poem. At reading events, he was always encouraging other writers to keep writing, as well as offering advice on where to get their stories published. While Tales to Terrify has featured a number of big-name authors, Larry also made certain that it featured at least as many fledgling writers.
Larry leaves behind not just an impressive body of work, but a writing community made stronger by his presence and saddened by his passing.