Star Trek 3 Confirmed
Star Trek 3 Confirmed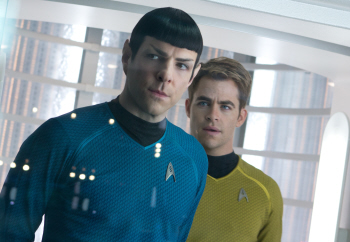 Paramount Pictures confirmed on Wednesday that the third film in the J.J. Abrams-helmed Star Trek reboot has been green-lit for a 2016 release.
I haven't been the biggest fan of the new films. Sure, they are highly watchable blockbuster action pics — fast moving, splendidly acted, and with terrific effects. But to me they haven't captured the spirit of the original show and the creators seem kinda oblivious to this fact, turning characters I've loved for 40 years into action-film superheroes, with Spock getting into prolonged fistfights with superhuman opponents and Kirk ascending confidently into the Captain's chair of the Enterprise in his early 20s, less than 24 hours out of the academy. It's been more like watching The Expendables filmed on a Star Trek set (which actually sounds sorta cool, now that I say it out loud.)
But that's okay. The films have been popular and have kept the franchise in the public eye. And they're by no means bad films — they're just not the Star Trek I wanted. So I was pleased to hear that there would be a third. Especially since the ending of Star Trek Into Darkness strongly implied the next one would be closer in spirit to the original version, with the crew finally beginning their five-year mission of exploration.
We don't know a lot about the new movie yet. We know it will be directed by Roberto Orci, screenwriter and producer of Star Trek Into Darkness, The Amazing Spider-Man 2, and the Sleepy Hollow TV show, in his directorial debut. In a recent interview, Orci stated that he wants the film to be more original, and to stay in the classic Trek world, which at least sounds good. His co-writer J.D. Payne also dropped a few clues about the plot.
Star Trek 3 (no idea if that's the final title) will be written by Patrick McKay, Roberto Orci, and John D. Payne, and produced by J.J. Abrams and David Ellison. It is scheduled for a 2016 release, just in time for the show's 50th anniversary. (Thanks to Tor.com for the tip.)