Dave Sim Announces He's Ending Glamourpuss And Leaving Comics
Dave Sim Announces He's Ending Glamourpuss And Leaving Comics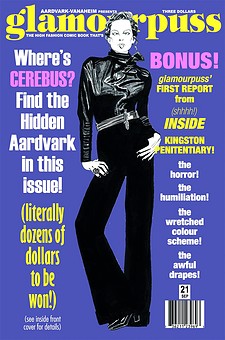 Well, this is troubling.
I stumbled on a report at The Comic Reporter this week that Cerebus creator Dave Sim — at one time my favorite comic writer and artist — has announced that he's ending his latest ongoing title glamourpuss and giving up on the medium entirely.
Part of the reason I find it troubling is that I've never even heard of glamourpuss. How could Dave Sim publish 26 issues of a comic without me knowing about it? I'd heard about his successful Kickstarter campaign back in June, which raised nearly $64,000 to create a special audio/visual digital edition of the Cerebus graphic novel High Society. I also knew he had experimented with an anthology titled Cerebus Archive and a web program called Cerebus TV… but how did he slip glamourpuss past me?
According to what I can find online, glamourpuss was both a parody of 60s fashion magazines and a history of photorealism in comics, masquerading as a surreal super-heroine comic. One of its most talked-about features was an ongoing storyline about the day comic artist Alex Raymond died, The Strange Death Of Alex Raymond. The art samples published online looked stunning. You can view page samples and purchase of most of the back issues at the excellent comiXpress site.
But the real news was Sim's bleak editorial in the latest issue:
Yes: this IS the last issue of glamourpuss… As soon as I saw the sales on the first issue – 16,000 – I knew that the title and my career were doomed. Because of the sheer volume of material published in the direct market, retailers need to order the highest numbers on the first issue and then start cutting drastically – on average: 50% per issue thereafter. 16,000 down to 8,000 down to 4,000 down to 2,000 and… oblivion…

In a final attempt to keep going, I re-jigged glamourpuss with [sister title] zootanapuss, using both the idea of a variant cover as zootanapuss No. 1 and double shipping each issue… It actually worked. Sales did go up on No. 25… but only by 34 copies over No. 24. I had arrived at my career end point…
I pulled the plug first on Cerebus Archive, then on Cerebus TV and then on glamourpuss. Not really saying anything to anyone, just walking away and starting my Doomsday Scenario — selling my Cerebus original artwork as slowly as possible, and looking at ways to liquidate the Cerebus Archive itself, up to and including just sending all of it to a landfill site or paying 1-800-GOT-JUNK to haul it all away, selling the house, liquidating the last of my RRSPs and my life insurance policy and just… disappearing. This planning continues in various forms and permutations… although with the success of the High Society Kickstarter campaign (and thank you, if any of our pledge partners are reading this), now postponed for however many months the Kickstarter money lasts. I'm guessing somewhere between November of this year and March of next year…

So, now I walk away from my almost totally silent audience of 2,400 and prepare to stave off complete oblivion with the 1,140 Kickstarter pledge partners. Wish me luck.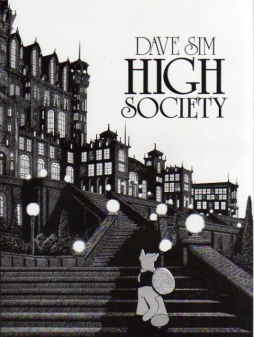 You can read the complete editorial here.
There's considerable discussion and reaction to the announcement at the A Moment of Cerebus blog, including comments from Kim Thompson and Eric Reynolds at Fantagraphics, Tom Spurgeon from The Comics Reporter, Greg Burgas of Comic Book Resources, and many others.
If any of this sounds familiar but you're not sure why, perhaps it's because we've discussed Dave Sim's 6,000-page masterwork Cerebus from time to time here at Black Gate. Matthew David Surridge wrote a splendid piece on the entire series — including the first report of the Kickstarter project — on June 14, and I recommend you start there.
I've mentioned Sim and Cerebus here occasionally. There was a period — several years, in fact, during most of the High Society and Church & State storylines — when I considered Cerebus the finest comic on the market. No other title came close.
It remains one of the most ambitious works of fantasy I've ever read, both a loving parody of some of the genre's most popular figures (Conan, Elric, Red Sonja, The Marx Brothers…) and a penetrating political satire.
Years later, Sim made a number of… problematic statements about feminism, women, and gender roles in a series of editorials that made him a virtual pariah in the industry, but by then he'd already lost much of his readership with the glacially paced Jaka's Story, which I found almost unreadable, and the uneven follow-up volumes. I stopped reading about a third of the way into Jaka's Story, and never really picked it up again until the final volume, The Last Day, over a decade later.
Whatever you may think of Sim's later career, there's no doubt he was a major influence on numerous comic creators, and one of the most important comic artists of the 20th century. The news of his departure from the field is a tragedy. I hope it isn't true.