Steampunk Spotlight: City of Iron Board Game on Kickstarter
Steampunk Spotlight: City of Iron Board Game on Kickstarter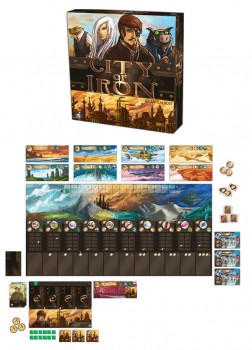 Last winter, I saw an excellent game on Kickstarter called Empires of the Void (Amazon). I was fairly new to Kickstarter, however, so didn't actually back it at the time because I was hesitant about how the whole process worked. When I caught a glimpse of the game at GenCon, however, I was very impressed with the production values and wish I'd gotten it … because the Kickstarter discount turns out to be nearly 50%.
I'm not going to make that mistake again. Empires of the Void's creators, Red Raven Games, now has a second Kickstarter going. City of Iron is a steampunk-themed board game, complete with bizarre races, exotic lands (including floating islands), airships, and yes, even bottled demons. That's right: one of the game's many resources are bottled demons.
The goal of the game is to build up your civilization's resource levels to surpass those of your competing civilizations. There are a variety of different ways you can proceed, with each turn allowing for three actions chosen from the following:
Build using a Building card
Buy Science tokens
Play a Citizen or Military card
Store a Building
Draw a card
Tax to gain coins
Attack a town
Some cards allow for extra actions or enhance certain actions, such as collecting more taxes or science, but the ultimate goal is to gain the most victory points. Victory points are gained throughout game play for various actions, including having the most resources, but there are also end-of-game modifiers for:
Most coins
Most distance
Most buildings
Most Military/Citizen cards
Most conquered towns
Storing penalty (lose victory points for storing too many unused cards)
The end result is that there are a lot of different strategies that a player can implement to try to gain victory points in this game, making for a game that potentially has a play style to suit a lot of different people.
Want to learn more? The major source of information is, of course, their Kickstarter website. First, there's the official Kickstarter promo video, which comes in at about a minute and a half, but doesn't provide much in the way of information about game mechanics. There's also a bit more detailed 6-minute overview of the game. For someone who really wants a deep dive into the game, however, check out the nearly-14-minute-long video by Tom Vasel (host of The Dice Tower gaming podcast), which covers many aspects of gameplay. And, if you really want to absorb the mechanics, you can even go and directly download the rulebook.
The game is designed for 2-4 players with a runtime of about 90 minutes. I can't find a direct age requirement listed on the promotional materials (or the rulebook), but there is a "family game" variant described, which streamlines some of the more complex rules, making the game more accessible for younger players. Really, though, the family game variant seems to mostly just remove the military and conquering aspect from the game, rather than simplifying things significantly.
The Kickstarter campaign ends on October 3. As of this writing, the game has about $20,000 toward its $30,000 goal, with 20 days to go. There are some great overstretch goals, though, that I'd certainly love to see incorporated into the game:
Town Card Expansion @ $35,000
Guide Sheet for New Players @ $40,000
Mercenary Cards Expansion @ $50,000
Plastic Science Tokens @ $80,000
Plastic Coins @ $120,000
So if you're a board gamer, I'd definitely say that this game is one you should check out while it's still available on Kickstarter. The visuals and gameplay look like they can't be missed.
And, by the way, did I mention that this game has bottled demons?