Goth Chick News: The Creature Had Good Taste and So Does Tim Burton
Goth Chick News: The Creature Had Good Taste and So Does Tim Burton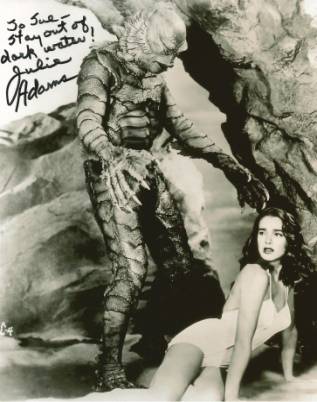 As it may have been with you, for me it all started with the original Universal Studios' monster movies.
By "it," I mean a lifelong fandom of the black and white, the subliminal scare, the camera angles and the long shadows; the classics created not because they were drenched in buckets of gore and nauseating realism, but because, as Bela Lugosi said in Ed Wood:
They were mythic. They had a poetry to them
Sigh.
Naturally, meeting someone associated with one of these films is the Goth Chick equivalent to winning the lottery; especially as those individuals who still are around to meet often do not venture far from the sunny and warm climates where they have retired.
Last weekend, Christmas came early when two of my all-time favorites from vintage Hollywood horror found their way to Chicago to attend The Hollywood Show.
Ms. Julie Adams, whose very presence and bearing makes you want to call her ma'am, is best known to many for her portrayal of bathing beauty Kay Lawrence in Universal's 1954 classic The Creature from the Black Lagoon. Admittedly, my knowledge of Ms. Adams' fifty-seven year career was extremely limited which she teasingly pointed out.
I wasn't just the bit of cheesecake in the Creature movie you know. I actually worked with Elvis too!
Correct on both counts.
As a 'bit of cheesecake' Ms. Adams was known for wearing the most famous bathing suit in monster movie history, but she also appeared alongside the King himself in the musical comedy Tickle Me in 1965.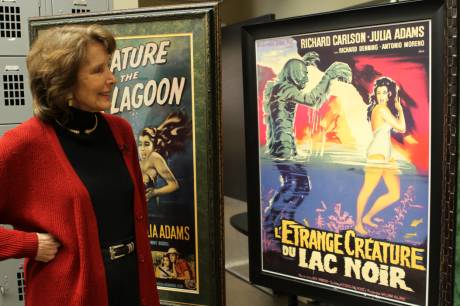 However, Ms. Adams knows exactly why people like me stand nervously in front of her at events such as these (and at 85 years old, her schedule is still extremely busy).
Accompanied by her son, Mitchell, she is animated in her description of her recently published autobiography, The Lucky Southern Star: Reflections from The Black Lagoon, and as she tells me how much she loves Chicago ("but only in the summer dear; I live in California, you know.")
I stammer and fidget, hoping I appear sufficiently (and intelligently) awestruck as opposed to the completely geeked out fan-girl that I am. She graciously signs a photo for me and I think my day can't possibly get any cooler.
That is until I had a nice long chat with Bela Lugosi himself: or rather the next best thing, Mr. Martin Landau.
He is surrounded by a modest entourage and when they part I see a still-handsome, if somewhat frail, gentleman. Like the Hollywood legend that he is, Mr. Landau is sporting a perfectly tailored gray suit, looking as though he has stepped right out of a limo in a black and white, pre-feature newsreel.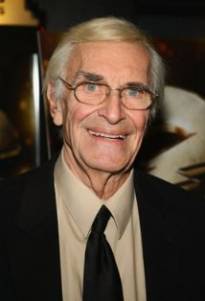 At 84, Mr. Landau's career has spanned over 57 years and encompassed nearly every genre Hollywood has to offer. I could easily have come to stand speechless in front of him because of his role in Cleopatra, Outer Limits, or perhaps most famously in the television series Mission Impossible.
But no, in spite of a filmography of 169 titles, I'm standing here with my mouth gaping open because of his portrayal of Leonard in Alfred Hitchcock's North by Northwest (Leonard, who is shot on top of Mt. Rushmore while sadistically stepping on the fingers of Cary Grant, who was holding on for dear life to the cliff face).
You can't hardly get any closer to classic horror than Hitchcock, right?
Or can you?
Martin Landau won an Oscar for Best Supporting Actor for his dead-on portrayal of Bela Lugosi, opposite Johnny Depp, in Ed Wood (1994). I own it in three formats, I can quote it until you want to slap me and as I tentatively extend my hand to the man himself, he says,
I bet you loved my Lugosi, didn't you?
Yes Mr. Landau, I most certainly did.
He also graciously signs a photo for me and while I consider building a separate wing in Chateaux Goth Chick to house this treasure, he gives me some very interesting details on his latest project, Frankenweenie (hitting theaters October 5th).
Mr. Landau plays one of the lead characters, Mr. Rzykruski, protagonist "Bob's" teacher. He's thrilled to team up with Tim Burton again, with whom he shared apparently endless hilarity during the filming of Ed Wood. He hopes to see Johnny (Depp) at Frankenweenie's LA premier, where he is headed when he finishes in Chicago.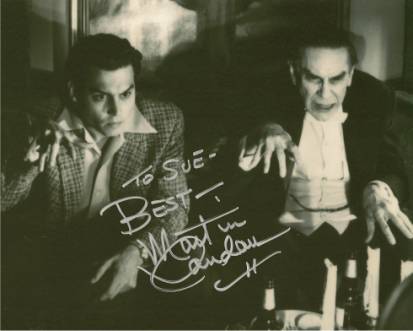 It is with clear excitement and enormous pride that Mr. Landau explains that early screenings of Frankenweenie have resulted with it lauded as Burton's finest work and early buzz indicates it may be nominated for Best Picture – not Best Animated Feature, but actually Best Picture. He looks far younger than his 84 years when he tells me he and Tim will be jetting off to London straight away after California, to the Frankenweenie opening over there.
Mr. Landau loves London.
I carefully shake hands with him again, thanking him profusely for the photo. But he can clearly see there's one final question I'm debating with myself if I should ask. And he's right. It's entirely inappropriate and as much as I want to, I simply can't.
But Martin Landau has made a career out of reading cues.
You want me to say it, don't you?
I can feel my face getting hot, but I nod and he grins widely before composing himself eerily into the very person of Bela Lugosi.
Karloff did not deserve to smell my shit! That limey cocksucker can rot in Hell for all I care!
Bliss…