The Top 20 Black Gate Fiction Posts in December
The Top 20 Black Gate Fiction Posts in December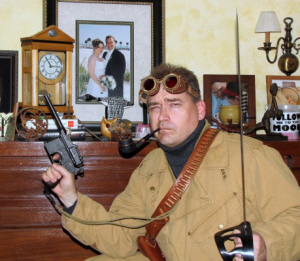 E.E. Knight's sword & sorcery epic "The Terror of the Vale" vaulted to the top of our Fiction list in December — doubtless buoyed by the publication of the first story in the Blue Pilgrim sequence, "That of the Pit," right here on December 8th. We're proud to be able to offer both stories to our readers for the first time.
Mark Rigney's "The Find," part of his perennially popular Tales of Gemen series, was in second place, followed by Vaughn Heppner's brand new Lod story, "Draugr Stonemaker," the sequel to "The Oracle of Gog" (Black Gate 15), "The Pit Slave," and "The Serpent of Thep."
Novel excerpts continue to be popular with discerning readers. Our exclusive excerpt from Mike Allen's dark fantasy novel The Black Fire Concerto claimed fourth place; fifth was our generous slice from Dave Gross's Pathfinder Tales: King of Chaos.
Also making the list were exciting stories by Joe Bonadonna, Jason E. Thummel, John C. Hocking, Janet Morris and Chris Morris, Aaron Bradford Starr, Harry Connolly, Alex Kreis, Martha Wells, Nina Kiriki Hoffman, Jamie McEwan, Peadar Ó Guilín, Judith Berman, and Howard Andrew Jones.
If you haven't sampled the adventure fantasy stories offered through our new Black Gate Online Fiction line, you're missing out. All through 2013, we presented an original short story or novella from the best writers in the industry every week, all completely free. Here are the Top Twenty most-read stories in December:
The complete catalog of Black Gate Online Fiction, including new stories by Michael Shea, David Evan Harris, David C. Smith, Ryan Harvey, John R. Fultz, Gregory Bierly, Vera Nazarian, C.S.E. Cooney, and many others, is here.
The Top fiction from November is here.