Last Chance to Win a Copy of M. Harold Page's The Sword is Mightier and Blood in the Streets
Last Chance to Win a Copy of M. Harold Page's The Sword is Mightier and Blood in the Streets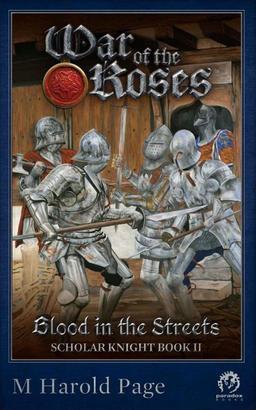 On January 7th, we announced a contest to win a copy of both of M. Harold Page's exciting Scholar Knight novels: The Sword is Mightier and Blood in the Streets. Here's the description for the second, Blood in the Streets:
Jack shifted both hands to his blade. With an animal roar, he executed a 'Murder Strike', swinging the weapon like a hammer. The crossguard caught the Lancastrian where only mail protected the nape of his neck. There was a loud crack. A shock reverberated up the blade stinging Jack's palms.

AD1455. The Yorkists are marching on London. What happens next is History… but Jack Rose must still live through it. Jack had planned to live quietly as a country gentleman while wooing the illusive Theodora, a fiery Greek lady of mysterious origin. Unfortunately, the price of keeping his land is following his lord to war. Now Jack must stop his men from getting themselves killed, survive lethal assassination attempts, win Theodora despite her fear of losing him, and, ultimately, pick up his greatsword and plunge into the first brutal battle of the Wars of the Roses.

In this standalone sequel to The Sword is Mightier, Jack wades through brawl, skirmish and melee, his fallen foes paving his path from scholar to knight.
How do you enter to win? Simple — just send an e-mail to john@blackgate.com, using as the subject the name of the first Master Strike in the German School of Fencing (we'll even give you a clue: it's "Zornhau"), and we'll enter you in the drawing.
Entries must be received by Friday, January 31, 2014. One lucky winner will win both books. The winner will be contacted by e-mail and books will be delivered in digital format.
All entries become the property of New Epoch Press. No purchase necessary. Must be 12 or older. Decisions of the judges (capricious as they may be) are final. Terms and conditions subject to change. Not valid where prohibited by law. Eat your vegetables. And good luck!