Win a Copy of M. Harold Page's The Sword is Mightier and Blood in the Streets
Win a Copy of M. Harold Page's The Sword is Mightier and Blood in the Streets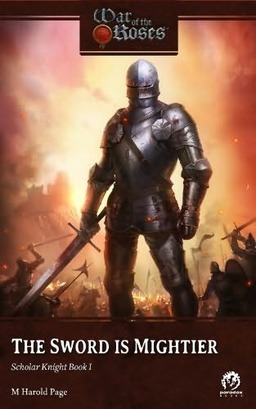 It's January 7th already and we haven't given away any books this year. Time to fix that.
Here at Black Gate, we like to reward faithful readers with the finest in free fantasy and that tradition continues this month with the exciting Scholar Knight novels of M. Harold Page: The Sword is Mightier and Blood in the Streets. Here's the description for the first, The Sword is Mightier:
The blade sheared through padding, collar bone, ribs, and came out the other side. Head, arm and shoulder thudded to the ground. The remainder of the corpse still stood, sheared torso like a bucket of steaming offal.

England AD 1454, the chaotic eve of the Wars of the Roses.

Jack Rose would rather be a scholar than a knight. However, when a brutal landowner steals his family estates and plans to evict the tenants, Jack must take up the sword and win back his inheritance by force of arms. As he wades through increasingly lethal encounters, it becomes clear that War is in his blood. Now he must decide who he really is…
How do you enter to win? Simple — just send an e-mail to john@blackgate.com, using as the subject the name of the first Master Strike in the German School of Fencing (we'll even give you a clue: it's "Zornhau"), and we'll enter you in the drawing.
Entries must be received by Friday, January 31, 2014. One lucky winner will win both books. The winner will be contacted by e-mail and books will be delivered in digital format.
All entries become the property of New Epoch Press. No purchase necessary. Must be 12 or older. Decisions of the judges (capricious as they may be) are final. Terms and conditions subject to change. Not valid where prohibited by law. Eat your vegetables. And good luck!