Monthly Short Story Roundup — December
Monthly Short Story Roundup — December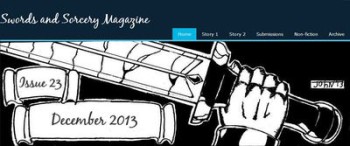 This past December, new short stories in heroic fiction were almost as scarce as good Conan pastiches. Not that it's been a bad month for heavier fantasy fiction, as both the Milton Davis/Charles Saunders-edited Griots: Sisters of the Spear and John R. Fultz's trilogy-ending Seven Sorcerers came out. It's just short fiction that wasn't happening.
In the past three issues of Beneath Ceaseless Skies, I found only a single story that fits the S&S bill (sort of). It's like the editors have decided they will not satisfy my need for more/new/good tales of S&S adventure. I feel like they've read my short story roundups and are looking to spite me for being disappointed in their emphasis on almost everything but heroic fiction lately. Fortunately, Swords and Sorcery Magazine came through with its regular monthly pair of stories.
Swords and Sorcery Magzine #23's first story (even though it's referred to as the second in the editor's preface) is "I Think Therefore I Die" by Fraser Sherman. Sherman, whose earlier work has appeared in Allegory and on Drabblecast, presents a Renaissance France where the key to what most of the world considers magic is really only the application of mathematical principles uncovered by Rene Descartes. Utilizing the techniques of advanced geometry, practitioners of Cartesian mathematics can travel between distant geographical points instantaneously. They can also affect minor healing on themselves. For the story's roguish hero, Hugh of Essex, a skirt-chasing Cartesian prone to dueling, the ability to staunch his wounds is a valuable one.
Hugh is in the midst of traveling from England to Vienna, where Descartes's theorems are lauded, when his money runs out. In all Europe, no nation is more opposed to Cartesian "sorcery" than France and that's where he finds himself stranded when the story opens. Unable to keep his trousers up and his dissection tools away, Hugh finds himself imprisoned, blackmailed into an impossible mission, and face to face with a mysterious figure out of French history.
Fraser's story is a ball. Don't be worried when I tell you the final showdown pits Cartesian geometry against Leibniz's calculus. The use of math to describe the world in perfect detail, and thereby gain the ability to alter it, is one of the more clever magic systems I've encountered lately. "I Think Therefore I Die" moves along quite quickly and frothily, save for a few dark moments held back for the right time and effect.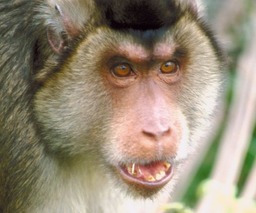 The second story is "The Devil's Mandala" by Garnett Elliott and it brings the reader into a Southeast Asian setting. Elliot has written stories for Alfred Hitchcock's Mystery Magazine and Swords and Sorcery Magazine (Issue #19 in particular). After achieving a soul-settling enlightenment on Mount Muhundyana, the assassin Senjam Singh has come to the city of Anghkar to spend his days as an ascetic sitting in front of a begging bowl. One morning he's approached by a consortium of fortune tellers. Their ability to tell the future has been mysteriously thwarted by the sorcerer Ruang Sak. They know of Senjam's past and skills and they offer him much silver in exchange for the wizard's death. Prompted by the thought that "Enlightenment doesn't put rice in your belly," and further persuaded by the fact that he never forswore killing, he takes on the task.
"The Devil's Mandala" is good, clean S&S fun made better by the addition of killer monkeys. You're welcome to argue with me, but I believe everything's better with monkeys. In my review of Elliott's story "Winter Exodus" this past summer, I wrote that he was new to me and I looked forward to reading his next story. He has certainly met my expectations here.
Despite cover art (click "Ruins" to see Stefan Meisl's full picture) that might suggest the two December issues of Beneath Ceaseless Skies contain lots of heroic fiction, the only story I came away with for this article was Christian K. Martinez' "Kurtana." Happily for me, it's a well-told tale of what happens to the warrior when the war is over.

Sagraille-Knight, also known as Hood King's Daughter, Noose-Maker, and Sword-Saint, is a mystical warrior seeking some sort of grace and restoration. Sagraille has fought for ages and across time, first in service to her master, Lady Cei, and then to avenge the Lady's murder. The war she fought in was a savage one:
There were terrible stories of Ghol's Knights, nightmare-tellings. Vengeance tales. When their Lady Cei, the Lady Cei of Mercy, had been killed, and how they'd razed their enemies. And the sons of their enemies. And the daughters of those sons. Ghol was surrounded by a desert of salt, now, and bone roads they'd built themselves.
To heal and recover from her long struggles, Sagraille has come to the Temple of the Kurtana. The Kurtana are a specially gifted order whose members, by learning all they can of their guests, help remove their pain and suffering.
Tsani is the youngest person to ever become a Kurtana, inspiring jealousy among some of the older residents of the Temple. She is chosen to minister to the battle-scarred Segraille. Segraille is uncertain of Tsani due to her youth and petty complaining about the envy of some of her fellow Kurtana.
The evolving relationship between Sagraille and Tsani is the heart of the story and Martinez does an excellent job describing these characters' cautious movement toward some understanding and empathy. Much of the story is given to small pieces of Sagraille's history, which I found interesting and meriting expansion. Another writer to add to the list of "hope to follow up on."
So that's it for December 2013. Nothing super spectacular, but all worthy efforts at heroic fiction. I keep saying it's a good time for S&S and nothing's putting me off that declaration yet.
This is my seventeenth post here at Black Gate and so far it's been a ball. For the coming year, I'm hoping to widen the breadth of my reading and dig deeper into swords & sorcery's back catalog, as well as its current offerings. I'll also continue to try to articulate what it is I'm looking to accomplish with these articles and understand my place as an older fan of a constantly changing pop genre. I hope you'll continue to accompany me on my exploration of this genre I love, catch a little of my enthusiasm for the older stuff, and increase my understanding of it all with your own comments.
Read November's Short Story Roundup here, and January's here.