Monthly Short Story Roundup – January
Monthly Short Story Roundup – January

Well, it's that time again, and here I am with another batch of new heroic fantasy and S&S short fiction reviews.
Nothing outside of Swords and Sorcery Magazine and Heroic Fantasy Quarterly caught my eye this past month and the stories they offered are the usual mixed bag, varying in quality from mid-range to very good. In a perfect world, some of these writers could make a living just writing short stories.
I love short stories. Growing up, a large part of my genre reading was made up of anthologies from brilliant editors like Lin Carter and Terry Carr. Their short (by contemporary standards) volumes introduced me to dozens of great authors, established and new.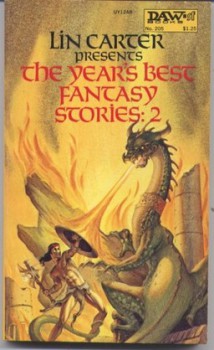 In Lin Carter's The Year's Best Fantasy Stories: 2, for example, the authors ranged from Tanith Lee and Fritz Leiber to Caradoc Cador and Paul Spenser. If one story stunk, there was a very good chance the next one wouldn't. It was a rare anthology that had nothing to offer.
I'm not saying anything new when I say a ten- or fifteen-page story can be as powerful as a novel. I'd recommend Harlan Ellison's "I Have No Mouth and I Must Scream" to anyone doubting that. As for excitement, how many five pound books can match the urgency and ferocity of Robert E. Howard's "Beyond the Black River"? Sure, there are times I enjoy being swept up in a six- or seven-hundred page book, but I'd mostly rather read twenty or thirty good individual tales. When the rare new heroic fiction story collection comes along, like Strahan and Anders' Swords & Dark Magic or Davis and Saunders' Griots, I don't hesitate to toss it in my Amazon cart.
And that's why I love the various magazines (and the work their editors do each issue). Just counting Beneath Ceaseless Skies and Swords and Sorcery Magazine, I'm guaranteed at least six new stories a month. In the months Heroic Fantasy Quarterly is published, that's an additional four or more.
Over the course of a year, that's a lot more stories than even Lin Carter edited together in the same amount of time. Which makes me a very happy fan.
Unfortunately, the January issue (#24) of Swords and Sorcery Magazine was a little more on the indifferent end of my spectrum. "Memories" by Daniel Hand concerns the annual nightmares of an army officer named Syrus. Each year, on the anniversary of his great victory against a horde of desert barbarians, he is plagued by a dream that disrupts the easy and comfortable life to which he's been promoted. The story centers on Syrus's sorrow over the losses his men suffered and the utter indifference of the citizenry towards that sacrifice. It's not a bad setup, but I would need more time with Syrus to forge a real emotional bond with the character or his worries.
M. J. Waller's "Saving the World One Dame at a Time" is a goof; a very Leiberesque story of two adventurers, Silk and Bunge, in the service of a wizard named Murphy. It's filled with not-as-witty-as-intended banter, a filthy sewer journey, and a prison assault to rescue a queen. And it pulls off a stunningly nutty bad joke of a conclusion that left me chuckling despite myself.
This is the start of Swords and Sorcery Magazine's third year. No matter what, Curtis Ellett's gotten two stories out every month like clockwork. As far as I know, it's a one-man operation and it's only gotten better and better over that time. So if every story's not a home run, I'm not really going to complain. Mostly I just feel gratitude.
Heroic Fantasy Quarterly Issue #19 just hit the stands with four stories (including one from editor Adrian Simmons) and a pair of poems. This issue continues the magazine's run as my favorite site for new stories.
"The House of Nharat" is the third story by Garnett Elliot I've read and reviewed and it is my favorite to date. Set in the fertile crescent during the Sumerian era, an ancient hero named Harun is summoned to help save the city of Nin Ursu from the astrological sorceries of the wizard Gemel-Il and the army of the enemy city, Mashak. Harun undertakes the mission accompanied by the aide of Nin Ursu's high priest. They journey into the desert atop a stone lammasu brought to life, in search of the secret behind Gemel-Il's power. The story's got a nice mix of action and mystery, as well as a setting very different than the usual fantasy land. Elliot has become a writer I am very happy to see listed in any table of contents.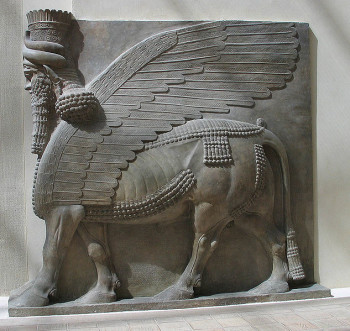 Colin Heintze's "The Last First Time" is about the tenth and final visit of the merchant Samwrit to the lost city of Karkil. Each year, the city and its residents reappear from the oblivion whence they were sent for the demonic crimes of their queen, Melsephine. This is an intricate story of lost love, obsession, and dark secrets within darker secrets.
In Ethan Fode's "The Living Curse," Soren's studies of the black arts have left him worried for his humanity. Each use of magic leads to massive death and destruction, which Soren would rather avoid. The story opens with Soren regaining consciousness after he has destroyed a band of cultists and the temple to which they had brought him after capturing him in the desert. In the aftermath of that event, he encounters a tribe of nomads allied with the cultists. While he's able to convince them he's a friend, Soren finds himself unable to allow their evil religious practices to continue unopposed — but he is also unwilling to wreak wholesale slaughter and thereby expose himself to the ravages of the magic he wields.
With its offstage opening and the mysteries behind Soren's powers, "The Living Curse" really feels like a excerpt from a longer work or the exploits of a serial character. This is a case where, if true, I'm anxious to read those other stories. There's enough mystery to the goings-on and Soren's background that Fode has hooked me.
Since I like HFQ so much, I'm glad I can write that I enjoyed Adrian Simmon's "A Paradise of Wasteland." On the surface, it's an almost routine tale. The prince of a small nation climbs a haunted and holy mountain to gain the help of its resident witch against the army preparing to invade and enslave. Along the course of the story, there are magic arrows, sorcery-haunted ruins, and powerful spirits. Simmons does some really nice work in the exploration of how far a man will go to ensure freedom.
The poems in this issue are short and to the point. First is Colin Heintze's "The Succubus," describing an encounter with exactly what the title says. E. L. Schmitt's "Fortune-Teller" is a nicely evocative description of an encounter with the character from its title.
So there you go. Six stories and, really, all are worth reading. Even "Memories" in S&SM is built around an interesting idea that just needed to be further developed. As long as there are good stories being written, I'm excited to keep reviewing them.
Read December's Short Story Roundup here, and February's here.