Griots: Sisters of the Spear edited by Milton J. Davis and Charles R. Saunders
Griots: Sisters of the Spear edited by Milton J. Davis and Charles R. Saunders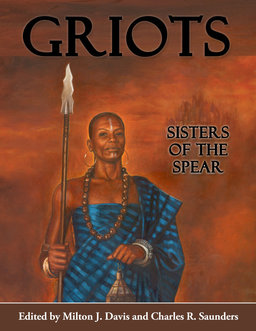 As I've written before, we are living in a S&S renaissance. A genre that was stuck in a loop of rote characters — fighting the same wizards, stealing the same temple treasures and damsels' virtues — and virtually extinct from bookstore shelves, has come roaring back to life in the past decade. It may not command the same attention it did forty years ago, but it is rousing and alive.
Something that's proving to be incredibly reinvigorating to the genre is sword & soul.  Charles Saunders, coiner of the term and creator of Imaro and Dossouye, two of the best heroic fantasy characters, describes it this way:
Fantasy fiction with an African connection in either the characters or the setting…or both.  The setting can be the historical Africa of the world we know, or the Africa of an alternate world, dimension or universe. But that's not a restriction, because a sword-and-soul story can feature a black character in a non-black setting, or a non-black character in a black setting.  Caveat: Tarzan of the Apes need not apply.
About six years ago Milton Davis started writing and publishing his own sword & soul fiction (though this predates the actual term). When a friend sent one of Davis' manuscripts to Charles Saunders (which he reviewed in Black Gate), one thing led to another and soon they were collaborators in fostering the creation of more sword & soul stories. Their efforts resulted in the terrific Griots anthology in 2011. As I wrote when I reviewed it at my site last year, it is exciting to see a genre I love evolving in real time.
Two years later Davis and Saunders are back with a sequel anthology, Griots: Sisters of the Spear. One of the driving forces of sword & soul is to present characters not often seen in standard-issue S&S. As Saunders writes in the forward, with this volume he and Davis found authors with characters that:
can hold their own and then some against the barbarians and power-mad monarchs and magic-users of both genders who swings swords and cast spells in the mostly European-derived settings of modern fantasy and sword-and-sorcery.
Griots: Sisters of the Spear is packed with seventeen stories by some authors you'll likely recognize and many you probably won't. Unfortunately, at least with the e-book, there's no information about the authors, which is a shame. I feel every anthology should give a little information about its contributors and and serve as a gateways to their other works.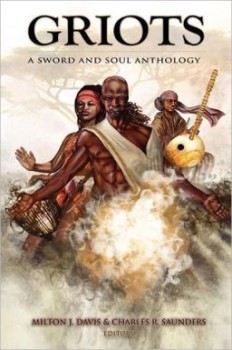 That aside, Sisters of the Spear is nearly as good an introduction to sword & soul as the preceding Griots. These anthologies aren't simply sword & sorcery fueled by African inspiration. Like in heroic fantasy, the stories focus on only one or two main characters, but the styles range all over the fantasy spectrum. There are mythopoeic twice-told tales, epic stories, high fantasy, and more straight-ahead adventures packed with action, monsters, and mayhem.
Sarah A. Macklin's "Marked" describes the short visit of a wanderer — called variously Blade, Lioness, and Sleeping Leopard — to a small town, and the rescue she undertakes there of a small boy.
"The Antuthema" by Derrick Brown is an epic in miniature wherein an imperial prince loves an enslaved warrior. Each season she must fight in a gladiatorial game, but this time around it's deliberately calculated to be fatal.
Carole McDonnell — author of "Changeling", my favorite story in Griots — returns in Sisters of the Spear with "The Night Wife." This story of a mighty queen's love for her youngest husband who is being ravaged by a succubus-like spirit, reads like the direst of fairytales. This is the saddest story in the collection and one of my favorites.
I'm not doing justice to Joe Bonadonna's "The Blood of the Lion" by just telling you it's got were-lions, mandrill-men, rhinomen, and an evil sorceress but that should be enough to get you to read it. For all its blood and thunder, Bonadonna brings his usual depth of character and emotional bite to this tale.
LaTreka Cross' "Lady of Flames" is another short epic, this time set on the banks of the Nile in 3296 BC. Raised and trained in secret for revenge, the daughter of the overthrown king of Kush is forced to make hard choices in fulfilling her plans.
In "A Subtle Lyric" by Troy Wiggins the owner of a large farm learns the truth of her mother's disappearance and decides what justice means to her. This would serve as an excellent first chapter to a longer work and it does so without being unsatisfying on its own.
J.C. Holbrook's "Zambeto" takes us on a "fast jet from Nairobi to Accra" with a woman traveling home to confront a twilight horror, as she was trained to do in her youth.
Sylvia Kelso's "The Price of Kush" returns us to the banks of the Nile. The young Candace of Kush faces uncertainty in her reign in the face of Egyptian and Hyksos ambitions in this longish tale.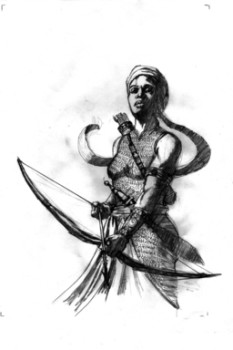 "Old Habits" by Milton Davis is set in in his shared world, Ki Khanga. It's the prequel to his story "Simple Math" which I reviewed on my site last year. The retired, married, and child-raising warrior Kadira is approached by her old battling companion, Omari, for one last, potentially very lucrative mission. She is torn between the call of adventure and her love for her husband and child, but in the end she rides with Omari. What follows is Davis' usual blend of well-developed characters and epic-scale action.
Rebecca McFarland Kyle's "Vengeance" involves princesses, pirates, betrayal, and sorcery. There's a lot going on — maybe too much for so short a story. Still, there's great world-building here which makes it more than worth the time.
"Death and Honor" by Ronald T. Jones is about the war leader Keersi Jiyan and what happens when, on a solo scouting mission, something rises from the depths of her past. I won't say more for fear of spoilers. There is a moment I first took for poor writing that, when explained, becomes darkly poignant.
Linda Macauley's "Queen of the Sapphire Coast" reads a little like a riposte to Robert E. Howard's "Queen of the Black Coast." Kala is no White Goddess, like Howard's Belit, ruling over a black crew, but a black woman herself. While she is called the pirate queen of the eponymous Sapphire Coast, she and her crew spend most of their days hunting down the slavers that routinely savage their homeland. One day they find an injured man signaling for help on an unmapped isle. Before he dies he tells them of  treasure lying about for the taking. He also implies that the other nine men he landed with all died. With only the barest of thought, Kala and some of her men launch off in search of treasure. This might be the lightest, most straightforward adventure story in the book, and still there's a melancholy undercurrent to Kala and what she finds on the island.
P. Djeli Clark's "Ghost Marriage" is my second favorite story in Sisters of the Spear. While it works the same sort of legendary material as McDonnell's "The Night Wife", it is told in a more contemporary style. It also expands the circle of devastation from beyond the confines of one woman's family to potentially the entire world. Ayen is a young widow who is haunted by the destructive spirit of her husband. She has ventured deep into the wasteland in search of a wise-woman who can sever her dead spouse's hold on her. Clark, another veteran of the earlier Griots volume, has written a powerful story of sorrow, remorse, and giant world-shattering monsters.
"Raiders of the Sky Isle" by Cynthia Ward tells about the battle between survivors of an Amazon empire and a flying island of winged men. Narrated by the brother of the Amazons' war chief and their sole remaining sorceress, there's some interesting world-building and sorcery to be had here.
"Brood" by Balogun Ojetade, co-creator of Ki Khanga and another contributor to Griots, is a short tale of martial arts prowess, a haunted womb, and an evil baby-demon. Good, quick blast of action.
Valjeanne Jeffers, yet another Griots alumna, provides another fierce warrior girl, but one not as tolerated by her people as some of the others in Sisters of the Spear. Only her special divine appointment presents her with any chance at acceptance from her family and community. This is a sequel to her story "Awakening" in Griots.
Sisters of the Spear's final story is a new Dossouye adventure from Charles Saunders. Dossouye has helped create a community of women called the Freed Ones, who hope to live in peace away from the pains they have suffered in the wider world. Unbeknownst to them, an order of sorcerers hopes to break their peace and capture them for unsavory purposes. "Kpendu" is deeply embedded in the events of earlier Saunders stories, so I'm not sure if it's where I'd start as an introduction to Dossouye.
Anthologies of exciting new fiction like Griots: Sisters of the Spear are exactly what are keeping heroic fiction alive and moving forward. What is so powerful about Davis, Saunders, and all the other writers creating sword & soul fiction is their unspoken rejoinder to anyone complaining about what he or she finds lacking in fantasy fiction: Do It Yourself. They don't blog, they write. Some are killing it while others are still working it out. But every single one tells a story using characters, cultures, and histories I don't get to read about that often. Even the stories I didn't love were a refreshing departure from the same Euro-Disney fantasy world I've read about all my life.
The e-book is available from Amazon for the low, low price of $4.99. You should get it.