Vintage Treasures: They Fly at Çiron by Samuel R. Delaney
Vintage Treasures: They Fly at Çiron by Samuel R. Delaney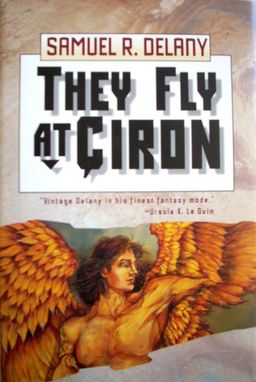 Samuel R Delaney is justly famous as a science fiction writer. As I noted during my days as a bookseller at places like the Chicago Printer's Row book fair (in my article "Selling Philip K. Dick"), Delaney is one of a handful of classic SF authors for whom there is still a constant demand. During that hot weekend in July in 2012 — just like at numerous SF conventions over the years — I did a brisk business selling old Samuel R. Delaney paperbacks to readers asking for him by name.
He's less well known as a fantasy writer, even though his Nevèrÿon books — Tales of Nevèrÿon (1979) and Neveryóna (1983), and the two collections Flight from Nevèrÿon (1985), and The Bridge of Lost Desire (1987) — have their fans. Personally I found Tales of Nevèrÿon beautifully written, but very slow, and had no real interest in trying the next three.
But the Nevèrÿon volumes aren't Delaney's only fantasy. In 1993 he revised and expanded a novelette he'd written with James Sallis and published in The Magazine of Fantasy and Science Fiction in 1971, releasing it as They Fly at Çiron, and I've always been curious about it.
Çiron is a quiet village, troubled only by the strange black Winged Ones who inhabit the skies overhead. Until the army of Myetra arrives, led by the brutal prince Nactor, and the villagers find themselves enslaved and treated as beasts. Rahm, a village youth, escapes and form a desperate alliance with the fearsome Winged Ones, finally finding a way to resist the Myetran's advanced weaponry.
They Fly at Çiron turned out to be Delaney's last genre novel. Since 1993 he has focused exclusively on literary novels such as The Mad Man (1994), Dark Reflections (2007) and Through the Valley of the Nest of Spiders (2012). They Fly at Çiron was published in a limited edition by Incunabula in 1993, and in hardcover by Tor in 1995. The Tor edition is 224 pages, with a handsome cover by Thomas Canty, and is readily available online.
See all of our recent Vintage Treasures here.