November Short Story Roundup
November Short Story Roundup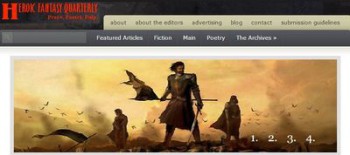 The Autumn or November issue, or simply Heroic Fantasy Quarterly #18, finally showed up, so let me start this month's roundup by digging right into Mssrs. Simmons', Farney's, and Ledbetter's magazine.
Of the various fantasy magazines I read, HFQ is my favorite. Not only is it dedicated entirely to the subject matter of its title, its contents are consistently of the best quality. That means they find the stories that don't settle for the usual and too-often-repeated S&S fixtures and are capable of stirring up the genre's thick and tired blood.
In its pages I've read about chess with King Oberon, a desperate flight from a ghostly lion, and vast necromantic battles. I've found writers like Seamus Bayne and Michael R. Fletcher, who make me stop what I'm doing and read their stories. They also get great artists to create terrific banner art for them. This month's image, "Song of Battlefield", is by Norimichi Tanka.
One of the strongest appeals of S&S is its ability to sweep us out of our lives into more heroic places: somewhere life isn't divided into hours spent in gray cubicles or cars stuck in traffic. The reality of such worlds would be much more grim and the rewards fleeting.
In Cesar Alcazar's "A Lonely Grave on the Hill," two aging Irish men-at-arms reflect on their past battles. Anrath, veteran of the losing side at Clontarf, hopes for oblivion at the end of his days to escape the stigma under which he lives as traitor to both the Irish and the Norse. On the other hand, Fearghal mac Artie fought at Tara and wants only to recapture that moment of glory one last time. The story is very successful at evoking the misty-shrouded Irish night and presenting the two men's contrasting memories of the battles they fought.
In "Taking the Bait," Jon Byrne's first published story, the master thief Timalo and his apprentice Jeddek are introduced as they're about to carry out a heist in a wizard's tower. As S&S goes, there's nothing unusual in "Taking the Bait," but it's a cleanly-written and tautly-plotted tale of what happens when you try to steal from a wizard. I'm a fan of caper stories, especially ones where plans fail, and the gears on this one are well oiled. There's not a lot of character development here, but Byrne does a good job of making his readers feel the older thief's age. I like the not-quite-over-the-hill Timalo well enough that I'm curious about what Byrne has in store for him.
The final story in HFQ #18 is G. Jerome Henson's brutal "Corinth." Spurred by religious fury and barbarism, the adherents of the Burned God overthrew and destroyed the Antonine Empire. In what was once the provincial city of Corinth (now called Corinna), the story's nameless narrator is chased by a mob for the sin of having Antonine blood. To them, he is a remnant of the old, cruel order and must be destroyed.
The narrator's only hope of survival is to reach Corinna's dilapidated Antonine gladiatorial arena. Feared as "tainted, haunted by spirits", the Corinnans will not enter the ruins. Exhaustion brings deep sleep and visions. His final vision, of an ancient warrior, arms him to face his foes and begin forging a destiny that will rival that of the lost empire's founder, Antoninus. Good, sturdy writing, a narrative that slowly parcels out backstory, and a stunningly violent climax make this one worth the reader's time.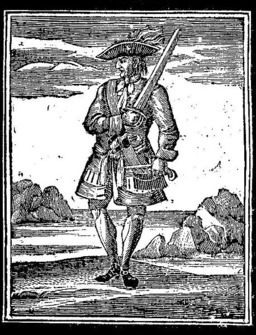 Then there's the poetry. James Hutchings' "The Ship in the Clouds" is the testament of someone ensnared by the vision of an airborne ship. Images of Jack Rackham and William Kidd invade the observer's mind. He (or she) hopes the ship will stop for him, but it doesn't and for years he searches to the point of being prepared to give up his soul.
I would willingly burn if I only could learn
where that ship of my dreams has its port
if they come in to land by the forests of Pan
or the pit where the Devil holds court.
I've liked pirates since I was kid reading Treasure Island, so Hutchings had me at the drop of Rackham's and Kidd's names. It's a fun tale of romantic obsession and the hope for adventure and escape.
Lorna Smithers' poem about one of King Arthur's battles against the Saxon invaders is told in the crimson-spattered "The Region Linuis." I'm not really up to judging poetry beyond how I react to it the moment I read it. As I've recently been reading about King Arthur (see my review on The Great Captains), I was predisposed to like this one. The poem does a better job than most prose at conjuring up the carnage and the aftermath of the battlefield clash of spears.
Dead the barren battlefield,
Empty the skies of ravens and red,
Silent the stars that shine in the staring
Eyes of slaughtered men.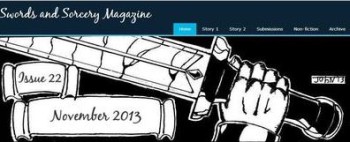 I really wish more people were talking about Swords and Sorcery Magazine. I'm going to keep repeating — every month — how impressed I am by the steady-as-she-goes work done by Curtis Ellett. As far as I can tell, it's a one-man operation and the remuneration for writers is low. Still, the the magazine continues to publish two stories every month, the quality of which have steadily improved. It may not be the slickest magazine out there, but I look forward to its monthly appearance more than many I've paid money for.
Swords and Sorcery Magazine Issue 22 opens with the almost folk tale-like "The Alchemist's Contract" from Karen Blaha. It's her first published story and thoroughly enjoyable. Set in a vaguely Czech land (I say this because I googled the names), it's about a father's journey to save his daughter. When the alchemist in his little village proves unable to save Marek's daughter, Marek and his friend Drahomir set off for the city of Krumlov, hoping to hire the great alchemist who lives there for the price of two cows. What follows is a touching, though not too sentimental, story of paternal love and sacrifice.
Robert Mammone, like Steve Goble and Rebecca L. Brown, is an author I discovered in S&S and look forward to reading each time he's published here. High above the rainwashed streets of Pendark, Nom sits waiting to assassinate his subject. Once his target lies bleeding out in a whore's bed, Nom is caught in a web of intrigue, arson, and murder that he hadn't expected. Of all this month's stories, this one is the most purely adventurous. There's no effort at sentiment, melancholy, or familial love, only shots from the dark, dashes across rooftops, and duels to the death. It's written well enough and it's a fun piece of swords & sorcery action.
So that's my roundup of November's stories. I'm not talking about the totally great Beneath Ceaseless Skies for two reasons: first, they let me down by avoiding heroic fiction for the past three issues, instead concentrating on other things like science fiction and plain old vanilla fantasy; and second, while I'd still normally review those anyway, other people — well, one person, at least — is itching to start reviewing the magazine. Now I'm hoping to have the time to start scouring the pages of the all the other magazines out there and report back on their contributions to the swords & sorcery renaissance.
---
You can find Fletcher's October Short Story round-up here, his December summary here, and his annual summer round-up of The Best New Sword & Sorcery of the Last Twelve Months here.