John R. Fultz's Seven Sorcerers On Sale Today
John R. Fultz's Seven Sorcerers On Sale Today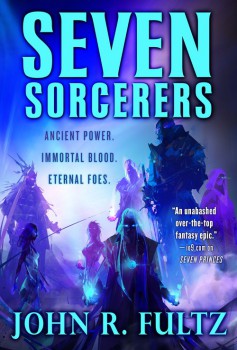 We're celebrating a major publishing event at the Black Gate rooftop headquarters today: the arrival of Seven Sorcerers, the third novel in John R. Fultz's Books of the Shaper series.
When Seven Princes, the first book in the series, arrived in January 2012, it marked the debut of a major new fantasy talent. Seven Kings cemented that reputation, and over the next two years, John graduated from promising new novelist to full-fledged literary star. The critical acclaim for the first two books has been stellar — Barnes & Noble called them "flawless epic fantasy," Library Journal praised Seven Princes as "A stand-out fantasy series from an author with an exceptional talent for characterization and world building," and io9 labeled the same novel "Epic with a capital EPIC."
John's talent is too big to be contained just in novels — on June 3, 2013, 01Publishing published his first collection The Revelations of Zang, gathering his baroque and fascinating sword & sorcery Zang Cycle, featuring the tale of a revolt against the nine Sorcerer Kings whose power displaced the gods themselves.
We published three stories from John R. Fultz's Zang Cycle in the print version of Black Gate: "Oblivion Is the Sweetest Wine," that tale of Taizo the thief and his daring heist in spider-haunted Ghoth (BG 12); "Return of the Quill," in which Artifice's long-simmering plan to bring revolution to the city of Narr finally unfolds (BG 13); and the prequel story "The Vintages of Dream" (BG 15). Next, John took us back in time to Artifice's first year as a member of the travelling Glimmer Faire in "When the Glimmer Faire Came to the City of the Lonely Eye," which appeared as part of the Black Gate Online Fiction line here in January.
Somehow missed out on all the excitement? Read the excerpts and stories linked above or try the complete first chapter of Seven Kings for free. Get more details on Seven Sorcerers here.
Seven Sorcerers was published today by Orbit Books. It is 448 pages, priced at $17 in trade paperback and $9.99 for the digital edition. Look for it in bookstores everywhere — and stay tuned to Black Gate for a special opportunity to win a signed copy!